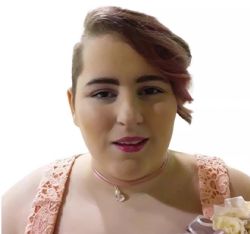 Alisha Nicole Cannan
6/19/2001 - 4/8/2021
Alisha Nicole Cannan, 19, of Lake Jackson, Texas passed away Thursday, April 8th unexpectedly in her home. She was born in Lake Jackson on June 19, 20001. Alisha was a life-long resident of the Lake Jackson/Clute area.

Alisha was a fighter and was given many battles in life. She was on the Autism Spectrum, had Type 1 Diabetes (Juvenile Onset) and a severe anxiety disorder. Nothing in her life came as "normal" yet she forged ahead and made her own unique place in this world.

Alisha was a pure heart, a joy, and a loving and kind soul. She loved all people and things but had a special place in her heart for anything that was abandoned, broken, "different," or needing love. She loved helping people. She was directed, spunky, creative, talented, inquisitive and had a self-taught unique brand of intelligence.

Alisha loved everything My Little Pony, even creating an original character (OC) that became her alter ego names Heartpaw Phoenix. There was a creative world that is unknown to most and that is where Alisha found acceptance, love, friendships and a creative outlet.

Alisha also adored all things Disney, old and new, all things magical and royal such as unicorns, mermaids and princesses. She was always found with her favorite color pink and as she grew older, pink remained her primary color with slips of purple and teal on occasion.

Alisha loved to learn and had a unique set of intelligence that was entirely self-taught and self-driven. She learned via the internet as she was an auditory and visual learner. She had a distinct interest in Early presidential history, British and European royalty. Her favorite musicals currently were Hamilton and Six.

She was preceded in death by her grandparents, Robert and Juanita Simons and her grandmother, Becky Clark.

She leaves to cherish her loving memories; parents, John and Jennifer Cannan, brother Lee Morgan Cannan and his wife, Brittnie and niece, Penelope, brother Spencer Cannan and his wife Sarah and niece, Kayleigh, her PawPaw and Nana, Ed and Lynne Carroll Cannan, her aunt Melissa Threet and her husband, Bobby, her cousin Taylor Espinosa, her honorary mother, Momma Jen, Jen Janise, Her honorary grandparents, Ben and "Nana B" Belinda Thacker, her honorary aunts, Jackie Hardman and Stephanie Krznarich, and a host of family and friends locally, in the U.S. and around the world.

A memorial service will be held at the First United Methodist Church at 404 Azalea St., Lake Jackson, Texas 77566 on Saturday, April 17th at 2 PM. Casual attire is requested, and we are asking everyone to wear pink in memory of Alisha's most favorite color. For the safety of all attending, masks are required, and social distancing will be practiced.

In lieu of flowers, consider making a donation in Alisha's name to a no-kill animal shelter, an Autism organization or a Type 1 Diabetes/JDRF association.
Obituary Provided By:



www.lakewoodfuneralchapel.com
info@lakewoodfuneralchapel.com
979-297-6464