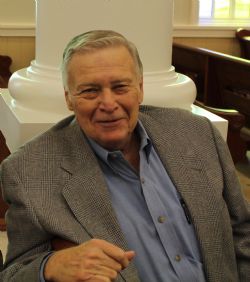 Mancil Glenn Wilfred

Mancil Glenn Wilfred
July 7, 1943 - November 29, 2017
Mancil Glenn Wilfred Sr. peacefully went to be with the Lord on November 29, 2017. He was born on July 7, 1943 in Dallas, TX to the late Annie Lee and Glenn Wilfred. Mancil was a devoted husband and father. He was a successful businessman: owner of Component Specialties Inc. and Marathon Associates; representing the leading electronic component manufacturers including, Intermedics, Inc. He was a wise and enthusiastic stock trader. As an avid fisherman (a charter fisherman for several years) he won many Fishing Fiestas in Freeport. In his free time he enjoyed restoring classic cars to their original condition, and was actively part of the Coastal Cruisers. In his recent years he was a member of the Jones Creek City Council, on the board of directors for Helping Hands & Hearts Hospice, and a distributor of The Book of Proverbs Ministry. He consistently contributed to his passions: Willow Drive Baptist Church, the Alzheimer's Association, M.D. Anderson Cancer Center, St. Jude Children's Research Hospital, Disabled Veterans National Foundation, the American Red Cross, the Wounded Warrior Project, and the Texas Port Ministry of Freeport.

"For as long as we knew him, he sowed seeds of knowledge, wisdom, and understanding into our lives and the lives of everyone he encountered." – Mancil Glenn Wilfred Jr.

He is survived by his wife of 41 years, Linda Gail Harrison, his children Shannon Weilnau (Ricky), Lauren Allen (Preston), Karen Sasser (Jonathan), Mancil Glenn Wilfred Jr., and his grandchildren Charlotte and Connor Allen, and arriving soon Baby Sasser. He was preceded in death by his parents, and sister Teresa Hamlin.

Pallbearers: Mancil Glenn Wilfred Jr., Ricky Weilnau Jr., Preston Allen, Jonathan Sasser, Chris Kenney, and Rick Ray.

Memorial contributions may be made to the Jones Creek Marshal's Office.
City Hall: 7207 Stephen F. Austin, Jones Creek, TX 77541. 979-233-2700.