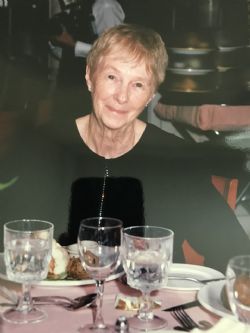 Charlotte A. McNeill

Charlotte A. McNeill
November 20, 1932 - May 31, 2018
Charlotte A. McNeill, died on Thursday, May 31, 2018 at her daughter's house in Pearland, TX.

Charlotte is survived by her son , William Nelson McNeill, her daughter Vey Marguerite McNeill, granddaughter Destin Michelle Pitre her husband Jason Pitre, and great grandchildren Vance McNeill-Becvar and Riley Pitre.

She was born on November 20, 1932, to her parents William Stinnette and Agnes Vey Stinnette in Washington D.C.

Charlotte married Perry Reese McNeill Jr. on December 10, 1955. They resided in Brazoria, TX and had two children, William Nelson McNeill and Vey Marguerite McNeill.

She worked in the Brazoria County Court System for over 30yrs, in Freeport, TX. Serving as Chief Court Clerk under four different Justices during that time. She truly loved her coworkers and treasured their relationships, always providing help in any way she could, because of her kindness and generosity.

Charlotte was a devoted wife, mother, grandmother and great grandmother. She enjoyed her career, spending time with her friends and family and caring for her pets. She had a passion for fashion and jewelry, collecting many beautiful pieces throughout her life. Charlotte meant so much, to so many, she will forever be missed and never forgotten.

A memorial service honoring Charlotte will be held on Thursday, June 7, 2018 at 5:30pm at the Lakewood Funeral Chapel. The family will also receive visitors at Lakewood Funeral Chapel from 4:00 to 5:30pm on Thursday ahead of the Memorial Service.