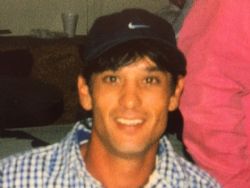 Felix Gerald Cox, Jr.

Felix Gerald Cox, Jr.
January 6, 1965 - September 16, 2018
Felix "Gerald" Cox, Jr., 53, of Clute, TX passed away in a tragic accident on Sunday, September 16, 2018. He was born January 6, 1965 in Aransas Pass, TX, to parents Maria Elena and Felix Gerald Cox. Gerald inherited a love for the ocean from his father, where he fished with him for many years. He spent most of his career in commercial fishing and working in various maritime roles from the North Atlantic to the South American Pacific. He was known to be a hard worker and eventually earned his 100 ton Merchant Mariner Captain's license. Gerald also had a little-known talent as an artist and drew beautiful sketches and paintings of various animals, scenery and people and was even commissioned to do a mural for a local school. Gerald was also passionate about golf where he spent some time working in that field as well. Gerald had a heroes heart often putting the well-being of others before himself. Just this year, he made the front page of the local paper for running into a burning apartment building because he knew other people and animals were inside. Most of all, Gerald loved his family and was especially proud of his daughter, Rachel. He will be remembered for his laugh, his big heart, his thoughtfulness and his willingness to help others. Gerald has gone to be with his father, Felix Gerald Cox, who preceded him in death. He is survived by his wife, Beatriz Cox, of Clute, TX; daughter, Rachel Cox, of Hillsboro, OR; step-son, Jovani Luna, of Clute, TX; mother, Elena Himel, of Hillsboro, OR; sister, Sylvia Kersten (Chuck) of Conroe, TX; sister, Margaret Cox Glidewell, of Corpus Christi, TX; brother, Abraham Cox, of Key West, FL; brother, Gabriel Cox (Mandy) of Hillsboro, OR; Step-mother, Sharon Cox, of Aransas Pass; beloved puppy, Bobby; and a loving community of extended family and friends. Special thanks to Rodney Mason who has not only been a devoted friend to Gerald but has been a tremendous support to the family during this time and our boots on the ground in Texas.