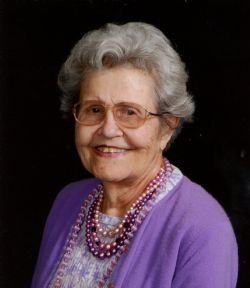 Joyce Kinchen Vernor

Joyce Kinchen Vernor
September 5, 1927 - November 12, 2018
Funeral services for Joyce K. Vernor will be held 2:30 p.m., Thursday, November 15, 2018 at Lakewood Funeral Chapel, Lake Jackson, TX, with Br. Jerl Watkins officiating. Visitation will be from 1:30 until service time.

She was born September 5, 1927 in Albany, Louisiana, graduated from high school in Denham Springs, LA, from Louisiana State University with a BS Degree and from the University of Houston with a MA degree. She taught business education at the local community college which developed into Brazosport Community College before teaching full-time at Brazoswood High School for twenty years and retired in 1989.

Joyce was an active member of First Baptist Church of Lake Jackson where she taught Sunday school or Bible Study on all levels. She also volunteered with Cub Scouts, Girl Scouts, local police academy and for 30 years with International Friends (teaching English as a second language). She was an avid domestic and foreign traveler, taking grandchildren and family with her often.

Joyce was known for her service to the Lord. She read her bible through each year since 1991, and her home was always open for missionaries and friends in need. She actively served her church, whether as a greeter or a prayer warrior.

She was preceded in death by her father, Francis Edward Kinchen; mother, Pearl Tanner Kinchen; sister, Yvette Gloria Kinchen; and husband, John S. Vernor.

She is survived by her children, John S. Vernor Jr. (Betsy); daughters, Yvette Vernor Dye of Denton and Garnet Vernor Lopez (Joe) of Pleasanton; seven grandchildren, Leigh Anne Vernor Shumate (Anthony), Lori K. Vernor Graham (Teal), Melissa K. Vernor Reid (Mark), Timothy John Vernor (Cate), Kathryn M. Dye, Joshua A. Lopez and John E. Lopez; and nine great-grandchildren. She is also survived by a brother, Francis Edward Kinchen Jr. of Baton Rouge, LA and numerous nieces and nephews.

Pallbearers will be Timothy John Vernor, Joshua, John and Joe Lopez, Anthony Shumate and Teal Graham. Honorary pallbearer will be Mark Reid.

In lieu of flowers, memorial contributions may be made to the First Baptist Church of Lake Jackson, the Texas Port Ministry or the church of your choice.