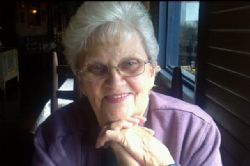 Lottie Joyce Kiecke

Lottie Joyce Kiecke
March 31, 1932 - November 22, 2018
Funeral Services for Lottie Joyce Gaines Kiecke, 86, of Lake Jackson, Texas are set for 10:30 a.m. Thursday, November 29 at Lakewood Funeral Home in Lake Jackson, Texas. Visitation will be at 6:00 p.m. until 8:00 p.m. Wednesday, November 28, 2018 at Lakewood Funeral Home in Lake Jackson, Texas. Lottie went to be with the Lord on Thursday, November 22, 2018 peacefully in her home surrounded by family.

Lottie was born on March 31, 1932 in Somerville, Texas to Samuel Robert and Ada Scott Gaines. She attended Somerville High School. Lottie married Jack Kiecke on October 24, 1948 in Burleson County, Texas. Lottie and Jack welcomed their two daughters while living in Brenham, Texas shortly before they moved to Lake Jackson in 1951. Lottie settled in to life in Lake Jackson as a homemaker, volunteer and active member in her community. In 1960 she joined Christ Lutheran Church in Lake Jackson and served on many committees within her church family. In 1964 Lottie became a mother once again, this time welcoming a son. Camping, spending time outdoors and working in the yard were some of Lottie's favorite past times. She had a competitive nature when it came to sports and games, and was a huge fan of her Houston Astros and Texas A&M Aggies. Lottie was an incredible cook, her kitchen always had something to offer, and Sunday dinners were always an event. She was the true definition of a matriarch and fostering relationships was her passion. Her life was spent caring for her husband, children, grandchildren and friends. Everyone who knew Lottie loved her quick wit and sense of humor along with her kind and gentle heart. She touched the lives on many people, and was always willing to help someone in need.

Lottie was preceded in death by her parents; husband; siblings, T.G. (Bunk) Gaines, Billie Gaines, Wallace Gaines, Sammie Gaines, George Gaines, Ida Louise Vaughan, Adelle Klar; and two nephews, Bill Gaines Jr. and Brian Gaines.

Left to honor Lottie and remember her love include, brother, Tom Gaines (Jeannie); daughters, Susie Essary (Don Moon), Vicki Whitehead (Willie), son John David Kiecke (Julie); six grandchildren; Kori Jackson, Blake Jackson (Kamesha), Chris Whitehead (Tamra), Nealie Moore (Travis), Lynsie Archie (Roland), Noah Kiecke; eight great-grandchildren; Reece and Sarah Brown, Passion and Brooklyn Baker, Cheyenne Whitehead, Hayden and Hudson Hibbetts, Sawyer Archie; and many nieces and nephews.

In lieu of flowers the family asks that memorials be made to Veterans of Foreign Wars.