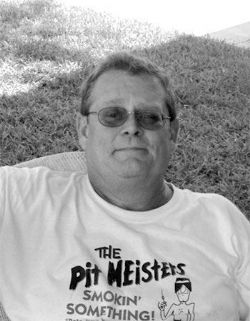 Jack Edwin Khoury, Jr.

Jack Edwin Khoury, Jr.
September 16, 1960 - November 22, 2018
Jack was called home on Thursday November 22, 2018. He was born in Laredo, Texas on September 16, 1960. His memorial service will be held at the Lakewood Funeral home in Lake Jackson at 2pm on December 3, 2018. Jack lived life to the fullest and loved his family, friends and grand-babies dearly. He lived in the Brazosport area since 1963. He grew up loving the outdoors camping, fishing and took his gardening very serious. He was always very proud of his garden. He was a lover of music, and he always knew how to have fun and be the life of a party. He was a proud member of the Pit Misters champion cook off team. He is preceded in death by his Father Jack Khoury Sr., grandparents; Joe & Robbie Khoury, Milburn & Edith Fitts. Uncle Duane Khoury. He is survived by his wife; Cheryl Ann Khoury, son; Kenneth Keleman, Brandon Keleman and his wife Crystal, Jack Khoury III and his wife Letty. Grandchildren; Jordan, Kaydence & Ezra, mother; Sue Fitts, brothers; Daryl & Kieth Khoury, numerous nieces and nephews. Honorary Pall Bearers, Charlie Kirk, Thomas Bacon IV, Jeff Clay, Charles Kyle, Jason Hearn, Leonard Henzel, and all the Pit Misters.