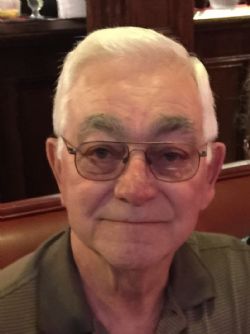 Jimmy Duane Lambert

Jimmy Duane Lambert
October 7, 1940 - February 19, 2019
Memorial services will be Saturday, March 2, 2019, at 2 p.m. at the Northway Baptist Church, 1421 Buchta Rd, Angleton, Texas, 77515. Pastor Joe Constantine and staff will officiate.

Jim was born to Roy and Odessa Lambert on October 7, 1940 in Hidalgo County, Texas. Jim is survived by his wife, Ruby Lambert; son, Randal Lambert – wife, Traci: daughter, Karen Mueck – husband, Troy; grandchildren, Kyle Lambert – wife Trishia, Dalton Lambert, Kaleigh Kubala and Kourtney Kubala. The twinkle in his eyes came when the four great grandchildren would come to visit; Kinsley Kubala, Kannon Waddy, Alie and Aubrey Lambert. "This is what life is all about," he would say.

Also surviving Jim is his sister, Linda Britt and several nieces and nephews. A special acknowledgement to nephews Shane Bates – Jennifer, and Skeeter Johnson – Lee Ann for going out of their way giving help and support.

His parents, Roy and Odessa Lambert, his sisters, Wanda –Kenward Johnson, Sandra – Irwin Gibbons, brother-in-law, Bill Britt precede him in death.

Jim always lived life to the fullest and was involved in many ventures. In high school he was a natural and an accomplished athlete. He attended Texas A & M University Engineering Extension Service, Rio Grande Valley Police Academy. He joined the U S Air Force, but always had farming and ranching as an ultimate goal. Whether it was helping kids with their horses, goats or sheep at the livestock shows or furnishing the retail stores with hibiscus or bougainvillea from his nursery, he still had time for hunting and fishing.