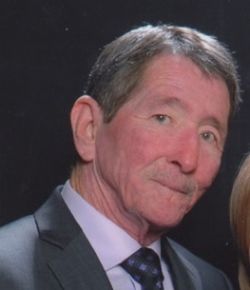 Calvin Joseph Ragusin

Calvin Joseph Ragusin
May 24, 1952 - March 13, 2019
Calvin Joseph "Joey" Ragusin, born May 24th, 1952, died on March 13th, 2019 with his wife of 42 years, Alice Ragusin, by his side.

Joey was born in Palacios, Texas to Martin Ragusin and Mary Ruth Bell. After graduating from Palacios High School and attending Sam Houston State University, he went on to work in the construction industry for his entire adult life. Joey made friends easily and everywhere, be it home in Lake Jackson, or in the many states his work travelled him over the years.

Joey was fiercely intelligent, sharp and sometimes stubborn to boot. He loved doing the daily newspaper crossword puzzles every week and always in pen. He had an encyclopedic knowledge for trivia, which he'd especially showcase during Jeopardy nights with daughters Lesley and Lauren. And Joey loved playfully hustling his friends in pool at their favorite local Lake Jackson haunt, the VFW Bar (where he was affectionately referred to as "Rags").

The loves of his life were his grandchildren, Gavin Rocco and Giana Amor, and made sure that he saw them as often as he could.

He leaves to cherish his memory his wife Alice Felan Ragusin, daughter Lesley Marie Ragusin Constancio and husband Edward, daughter Lauren Michele Ragusin and grandson Cody Joseph Clayton.

Joey is also survived by brother Sam Bell and wife Kathy; sister Brenda Bell; sister-in-law Rose Ramos; sister-in-law Elvia Gonzales and husband Florencio "Flo" Gonzalez of San Antonio; niece Celina Alexis Flores and husband Hector Flores, and their daughter Alexis of El Paso; niece Christine Ragusin Seiler and husband John Seiler, and their children Paige, Noah, and Charlotte of Austin; cousins Harvey Ringo and wife Rosalinda; and Alan Morrison and wife Lisa, and extended family members.

He is preceded in death by his father Martin Ragusin, mother Mary Ruth Bell, brothers Joseph Alexander Ragusin and John Terry Ragusin.

Memorial service will be held on Monday, March 18th, 2019 at 10:30am at Lakewood Funeral Home in Lake Jackson, Texas. A fellowship gathering will be held at the Lake Jackson Civic Center immediately following the service.

Ruben Cancino will be the performing minister and Florencio Gonzalez the eulogist.

Honorary Pallbearers are Alan Morrison, Harvey Ringo, David Daniels, Jesse Flores and Juan Mares.

The family would like to thank everyone who offered expressions of love, kindness, and food that was given during this sad time.

In lieu of flowers, the family is asking for donations to be made to the Pancreatic Cancer Action Network (877) 272-6226.