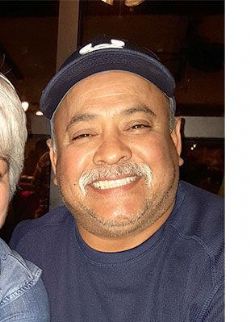 Juan "Beto" Alberto Castillo

Juan "Beto" Alberto Castillo
March 13, 1959 - April 14, 2019
On April 14, 2019, Juan "Beto" Castillo passed away at the age of 60.

He was married to his wife, Teresa Castillo for 29 years. He was devoted to his family and enjoyed spending time with his grandkids. He worked for Dow Chemical for 38 years. He enjoyed fishing, loved to travel, and visit his family out of town. He was an amazing husband, father, grandpa, brother, uncle, and friend.

He was preceded in death by his parents, Presentacion and Elena Castillo.

He is survived by his wife, Teresa Castillo; and children, Adriana Cantu, Maria Castillo and Juan Castillo Jr.; as well as his grandchildren, Lyla, Manny, Elijah, Josiah, Alayna; and his dog, Lady Gaga.

The visitation will be Thursday, April 18, 2019 from 5-8 with a rosary at 5:30 at Lakewood Funeral Chapel. The celebration of his life will be Friday, April 19, 2019 at St. Jerome's Catholic Church at 10:00 a.m. with the burial following at Restwood Cemetery.

The pallbearers will be Jose Castillo, David Cantu, Andrew Pedraza, Armando Pedraza Jr, Ramiro Rodriguez, and Raul Martinez. Honorary pallbearers will be Jorge Castillo, Reggie Garza, Gino and Isaac Garza, Manny and Elijah Cantu, and Josiah McIntyre.