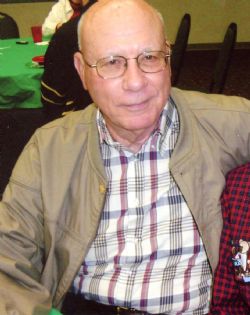 Wilbert William Poehls

Wilbert William Poehls
September 12, 1936 - May 7, 2019
Wilbert William Poehls passed peacefully from this life on May 7, 2019 at the age of 82 at his home in Jones Creek, Texas. He was born in Rosenberg, Texas on September 12, 1936 to Ernest Gus and Olga Annie Poehls.

He graduated from Brazosport High School in 1955 and was in the Marine Corps from 1955-1959. He was extremely happy to return to Texas and his family. He had worked at Henke and Pillot (later Kroger) in Freeport while in high school and returned to work with them where he became produce manager until 1965, when he began working at Dow Chemical, retiring 30 years later. As a member of the church of Christ, he volunteered in 1997 to preach to the men in Wayne Scott. He ministered to the inmates for over 18 years until Parkinsonís Disease made him unable to continue. He always felt blessed that he had the opportunity to serve God and the men in the unit.

In August 1967, he and Linda Jo Powell were introduced by her brother-in-law, D.W. Chapman, after Sunday morning church service. Wilbert had been chosen by Lindaís mother and brother-in-law to be her potential husband. Their relationship grew, and they were married on February 2, 1968. Two days before their first anniversary, they were blessed with the birth of their first daughter, Amanda Ilene. Twenty months later they were blessed with another daughter, Sharon Lynette.

Wilbert was preceded in death by his father, Ernest Poehls; mother, Olga Poehls; and sister, Janette Hewett.

He is survived by his wife of 51 years, Linda Jo Poehls; daughters, Amanda Ilene Oldag (Lonnie) of Hackleburg, Alabama, Sharon Lynette Larson (Mark) of Norwalk, Ohio; four much loved grandchildren, Austin Harley Oldag, Jordan Paul Oldag, Megan Christine Larson, Amber Paige Larson; brothers, Marvin Lee Poehls (Anna) of Waco, Ernest Poehls (Carole) of Jones Creek; sisters, Gladys Lewis of Lake Jackson, Linda Phelps of Churchill, Barbara Frey (Lewis) of Cypress.

The family will receive friends from 6:00 p.m. to 8:00 p.m., Friday, May 10, 2019 at the Lakewood Funeral Chapel in Lake Jackson, Texas. Funeral services will be held at 10:00 a.m., Saturday, May 11, 2019 at the Lakewood Funeral Chapel with Lonnie Oldag and Dan Kessner officiating.

Linda and her family want to thank A-Med Community Hospice and Care Builders at Home with special thanks to hospice nurses, Amy Cullen and Eduard Lugones.

In lieu of flowers, please make donations to a hospice of your choice.