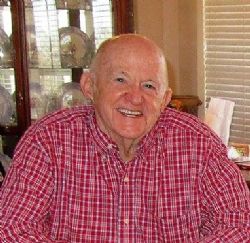 Joseph Vannoy Lindsey

Joseph Vannoy Lindsey
May 20, 1933 - June 2, 2019
Funeral services for Joseph Vannoy Lindsey, age 86, of Surfside Beach, TX, will be held at 1:00PM on Monday, June 10th, 2019, at Lakewood Funeral Chapel in Clute, TX, with Mark Miles officiating. Burial will be held at Gulf Prairie Cemetery in Jones Creek. Visitation will be at Lakewood Funeral Chapel from 2-4:00PM on Sunday, June 9th.

Joseph Vannoy Lindsey was born on May 20th, 1933, in Gilmer, TX, to the late Joseph W. and Clara Lindsey, and passed away on June 2nd, 2019, in Houston, TX. He had been a longtime resident of Freeport, TX, and had recently returned to the area after living in Athens, TX, for 35 years where he was a Farmerís Insurance agent. After his wife of 58 years, Elsa, passed away, he returned to the area to reminisce and reconnect with many old friends. He was known as Vannoy, Tootsie, Toots, Tooter, Poppa Joe, & Pop. Many knew him as the manager of Western Auto in Freeport and later as the co-owner of CD Marine Supply Co. He had more recently been a volunteer with the Auxiliary at the Brazosport Hospital and attended the Good Morning Church at the beach.

He was preceded in death by his wife, Elsa Lindsey, and by his brothers, Loye Lindsey and Darwin Lindsey. Survivors include his sons, Marty Lindsey and his wife, Brenda of Athens, TX, Gary Lindsey and his wife Carolyn, of Tyler, TX, and Timothy and his wife, Beverly of Angleton, TX; his daughters, Camille Lindsey of Surfside and Angela Edmundson and her husband, Stephen of Houston, TX; and 6 grandchildren, 13 great grandchildren, and many granddogs.

Pallbearers will be Joshua Walker, Stephen Edmundson, Kyle Cranfill, & Chris Smith.

Honorary pallbearers will be Trenton Shelton, Joseph Edmundson, Bill Edmundson, Kayden Walker, Korbyn Walker, Owen Holcomb, Grayson Holcomb, and Zachary Robertson.