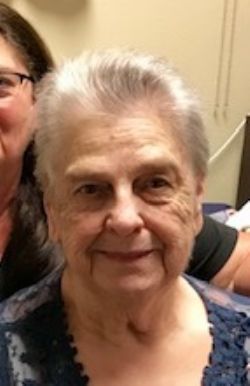 Gladys Jean Sobotik

Gladys Jean Sobotik
September 12, 1936 - August 30, 2019
Gladys J. Sobotik, 82, of Clute passed away Friday, August 30, 2019. She was born September 12, 1936 in Garwood, Texas. Gladys enjoyed fishing and crabbing at the blue lake; cooking, baking, and canning; and loved camping with her family. She was an avid quilter. Gladys enjoyed spending time at their lake house in Somerville. She was known to enjoy the quarter slot machines.

She was preceded in death by her mother, Hilda Mc Spedden, husband, Julius Leo (Curly) Sobotik, grandson, Jake Fox, brother, Raymond (Ray) Barton, 2 sisters, Lorene Stanford and Joyce Robertson (and their spouses).

Gladys is survived by 4 children: Victor Sobotik and wife Jan of Spring, Texas, Larry Sobotik and wife Sybil of Angleton, Texas, Kathy Fox and husband Ricky of West Columbia, James Sobotik and wife Yvonne of West Columbia, 8 grandchildren, including only grand daughter Amy Strother, 18 great grandchildren, and numerous nieces, nephews and other relatives.

The family will receive friends noon until service time at 2pm Tuesday, September 3, 2019 at Lakewood Funeral Chapel with Rev. Thomas Lester officiating. Pall bearers will be Erick Sobotik Burke, Matt Sobotik, Jacob Sobotik, Joseph Sobotik, Chad Fox, Kassie Sobotik, and Wesley Whitley. Honorary pall bearer Jeremy Smith.

The family wishes to thank her care givers at Country Village Care in Angleton.

Gladys dearly loved spending time with her grandchildren and great grandchildren who always brought a smile to her face. She will be dearly missed by all who knew her.