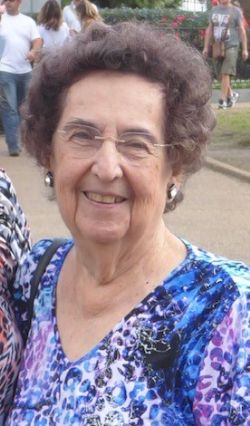 Mary Elizabeth LaCoume

Mary Elizabeth LaCoume
October 19, 1930 - January 3, 2022
Funeral services for Mary Elizabeth Grace LaCoume, age 91, will be held at 2:00 p.m. on Tuesday, January 11, at St. Michael the Archangel Church in Lake Jackson, Texas, with Father Dwight Canizares officiating. Prior to the funeral service, the family will receive friends for visitation at St. Michael's Church from 12:00 -1:30 p.m. A rosary will follow the visitation at 1:30 p.m. followed by the funeral mass at 2:00 p.m. The family requests masks be worn inside the church during the visitation and services. A graveside service, restricted to immediate family only due to COVID protocol, will take place on a later date at Mount Olivet Catholic Cemetery in Dickinson.

Mary Elizabeth Grace was born to Leah and James Grace on October 19,1930, in Galveston, Texas. A steadfast BOI, Mary graduated from Ball High School in 1948 where she was an involved member of the Student Congress and many other organizations. Mary attended high school with the love of her life, Jerry Reid LaCoume, but they didn't start dating until after graduation. Mary and Jerry married at Sacred Heart Cathedral in Galveston on June 7, 1953. Soon after their honeymoon to New Orleans, Jerry was deployed on a Naval ship overseas during the Korean War.
While waiting for Jerry to return home, Mary stayed with her parents in Galveston and worked at Hutchings-Sealy National Bank and enjoyed sharing in her father's love of baseball by watching the minor league White Caps. This early love of baseball was continued throughout her life as a lifelong fan of the Astros, attending many games with her father at the Astrodome and her grandson at Minute Maid Park.

Upon Jerry's return from the war, the couple moved to Austin so that Jerry could continue his degree at the University of Texas. During this time, Mary supported Jerry's academic pursuits by working at Austin National Bank. They both were avid Longhorn fans throughout their lives; Mary enjoyed attending UT football games in Austin, Upon Jerry's graduation from UT, Mary moved to Lake Jackson in 1957 where Jerry began his lifetime career with Dow Chemical.
In Lake Jackson, Mary became a devoted mother to Lori in 1961 and Lindy in 1968; she never missed one of the girl's activities or an opportunity to attend a school event. She was an active PTA member and Girl Scout leader for both girls. Socially, Mary was also a longtime member of the philanthropic Beta Sigma Phi Sorority; her involvement in the sorority began in Galveston and continued in Lake Jackson. As a parishioner of St. Michael's Catholic Church, she taught Sunday school and contributed to many different Catholic women's groups. Mary's interest in children and teaching would continue and grow into a career with Brazosport Independent School District, first as a substitute teacher and then as a secretary for many years at Clute Intermediate School. At Clute Intermediate, she would make lifelong friends with staff and could be found giving advice to wayward students in the principal's office.

Upon retirement, Mary continued to substitute in the school district, but she also enjoyed travelling with Jerry. Together, they went with many fun tour groups on trips across Europe and Canada. During this time, Mary also relished in her new status of "Nana" to Valerie, Matthew, Caden and Carly. She again never missed a grandkid's activity and attended many different functions like school events, ice skating competitions, soccer tournaments, basketball games, baseball tournaments and dance recitals.

Mary is survived by her daughter Lori LaCoume McElhaney and husband, Paul; her daughter Lindy LaCoume Goodwin and husband, Brandon; Grandchildren Valerie McElhaney Satterwhite and husband Ryan; Matthew James McElhaney and wife Candice; Caden Reid Goodwin, and Carly Grace Goodwin; and Great-Grandchildren Savanna Grace Satterwhite, Lucy Rose McElhaney, and Clare Grace McElhaney. She is preceded in death by her parents, her sister Beverly Grace, and husband Jerry Reid LaCoume.

Pallbearers will be Brandon Goodwin, Caden Goodwin, Paul McElhaney, Matthew McElhaney, Ryan Satterwhite, and Kevin Polivka. Kenneth Brown will be an honorary pallbearer. Readers will be Candice McElhaney and Isabel Respondek.

The family would like to thank the staff at The Enclave at Cedar Park and Suncrest Hospice for their care in Mary's final years. Donations in Mary's name are welcomed for St. Michael's Catholic Church at www.osvhub.com/smlj/funds or to the Alzheimer's Association.

Arrangements were made through Lakewood Funeral Chapel. Online condolences may be made to the family at www.lakewoodfuneralchapel.com.