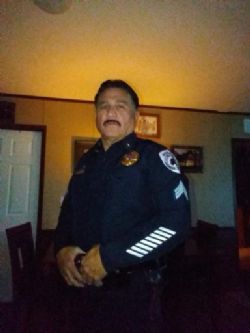 Abel Salazar Mendoza

Abel Salazar Mendoza
November 20, 1954 - September 24, 2022
Abel Salazar Mendoza, 67 passed away from medical complications on September 24,2022.

Abel was a loving father, son, brother, uncle, grandfather, and great grandfather. He was born November 20,1954 in New Gulf, Texas to Jose and Lionilla Mendoza. He resided in Sweeny, Texas and enjoyed his peaceful country living, woodworking, weightlifting and his love for motorcycles and the Dallas Cowboys. Abel was a very passionate and deeply spiritual man. He will be truly missed by his family and friends. He was truly one of a kind.

He dedicated 41 years of his life to being a patrol officer. Some of his many accomplishments was Patrolman, Special Deputy United States Marshal, Deputy Constable, Sergeant, and Police Captain. Abel was employed with Brazoria County Sheriff's Office, Bay City Police Department, Palacios, Matagorda County and BCISD.

He is survived by his wife Dora Alicia Mendoza; his daughter Azalea Martinez, Dahlia and husband Tony Ramirez, Monica Mendoza, and son Noah Mendoza; 8 grandchildren and 3 great grandchildren.

He is preceded in death by his parents Jose and Lionilla Mendoza.

Funeral Services will be Friday September 30,2022 at St Joseph's Catholic Church in Brazoria. Viewing from 9-10 AM, Mass at 10 AM; burial to follow at Brazoria Cemetery.