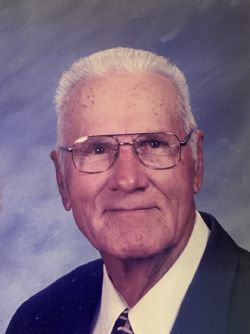 St. Michael's Catholic Church
100 Oak Dr.
Lake Jackson, TX 77566
Wednesday, March 24, 2021
10:00am-10:30am
Map & Directions


Send Flowers
Memorial Service
St. Michael's Catholic Church
100 Oak Dr.
Lake Jackson, TX 77566
Wednesday, March 24, 2021
11:00am
Map & Directions

Rosary
St. Michael's Catholic Church
100 Oak Dr.
Lake Jackson, TX 77566
Wednesday, March 24, 2021
10:30am
Map & Directions


Send Flowers
Emil William Faltisek, Jr.
of Lake Jackson, TX
March 31, 1926 - March 12, 2021
---
EMIL WILLIAM FALTISEK, JR., 94, passed away peacefully at home in Lake Jackson, TX on March 12, 2021. Born on March 31, 1926 to Helen Keprta and Emil Faltisek in East Bernard, TX, he grew up with 5 sisters, and was affectionately called "Sonny." Immediately after graduating from high school, he enlisted in the United States Army Air Force and became a B-17 bomber tailgunner in World War II. By 19 years of age, he was Honorably Discharged after flying 24 European missions, and awarded the Victory Medal, the Air Medal with two Bronze Leaf Clusters, a Sharpshooters Medal, the American Theater Ribbon, the European-African-Middle Eastern Medal with three Battle Stars, and the Good Conduct Medal.

Emil married Ollie Rachunek in December 1946, and soon after they moved to Lake Jackson. He began his 39-year career as an Instrument Technologist with Dow Chemical Company, where many coworkers knew him only as "Kingfish." When there were problems, Kingfish was the one called out to solve them, often in the middle of the night. Emil and Ollie had 7 children, and raised them in the same home where Emil lived until his death. They are active members of St. Michael the Archangel Catholic Church, and previously of its home parish St. Mary: Star of the Sea Catholic Church.

Emil was truly one of the "Greatest Generation" who knew how to make-do and solve problems. He was hard-working and responsible, a faithful believer, brave and honest, a man of integrity. Truly one of a kind, he's been described as "a diamond in the rough" and "salt of the earth." Well known for his directness and brutal honesty, he was also quite charming, with a sense of humor and a quick wit. He enjoyed staying busy: fixing anything broken (even if it meant designing a needed part), woodworking in his garage or at side jobs, tending to his cows and spending time at "the pasture". He was an expert carpenter, often volunteering his skills at his church and Our Lady Queen of Peace Catholic School. As "Gramps", he especially loved holding and spoiling the babies, reading to the youngest, giving tractor rides, pushing in the tire swing, playing ball or attending ballgames. He enjoyed hunting at the deer lease, playing poker and dominos, getting together with his large extended family of relatives, and always entertaining with his jokes. In later years he began recalling his wartime experiences, and spoke to audiences on several occasions of his amazing adventures. Active even at 93, Emil began each day on his exercise bike, while praying his rosary, and before working his daily crossword puzzle.

In addition to his parents, Emil is preceded in death by his son Bill (Emil William III), grandson Colin Samway, and his sisters Helen (W.J. "Dub") Aubertin, Annette (Maurice) Weber, and Bernie (John) Reed.

His family left to cherish his memory include his wife Ollie; his sisters Yvonne (Tom) Krenek and Patsy Faltisek; his children Debby O'Donnell, Catherine Samway, Monica (Joel) Ford, Teresa (Paul) Gaspard, Tim (Carla) Faltisek, and Paul Faltisek; 13 grand-children: Amy McDaniel, Bryn (Brandon) Potter, Kyl (Natalia) Samway, Courtney Bowman, Justin (Sarah) Ford, Hollyn Ford, John (Alex) Champion, Emily (Jason) McIntire, Hayden Gaspard, Kabel Faltisek, Ryan Faltisek, and Garreth Faltisek; and 8 great-grandchildren: Jack Bilello, Bryce and Brayden Potter, Rydge and Bannock Bowman, William and Madeleine Ford, and Sage Maloy; numerous nieces and nephews in the Faltisek and Rachunek families.

Honorary Pallbearers include Tim Faltisek, Paul Faltisek, John Champion, Kyl Samway, Justin Ford, Hayden Gaspard, Ryan Faltisek, Jack Bilello, Kabel Faltisek, and Garreth Faltisek. The family offers their sincere gratitude to the caretakers and Hospice personnel who lovingly cared for Emil.

Memorial services will be held on Wednesday, March 24 at St. Michael the Archangel Catholic Church in Lake Jackson, beginning with a Visitation at 10:00 a.m. and Rosary at 10:30, followed by The Mass of Christian Burial at 11:00 a.m. Interment will follow at Restwood Memorial Park with Military Funeral Honors.

For the safety of all attending, guests are asked to observe COVID guidelines, and thanks attendees for masking and social distancing. In lieu of flowers, memorial contributions can be made to The St. Vincent de Paul Society or to the charity of personal choice.


6 Condolence(s)

Kevin and Cathy Ermis
Kerrville, TX
Saturday, March 27, 2021
To all the Faltisek Family,

Cathy and I are very sorry to hear of the loss of Mr. Faltisek. Being next door neighbors for many years, you feel like part of the family. I will always remember the conversations I had with him from our backyards. He was a great man and will be missed.
May you all feel God's love and comfort during this time.

Diana Miles
Lake Jackson, TX
Wednesday, March 24, 2021
It was an honor to have worked with such a bright and kind gentleman. He was truly a great person.

Robert Brem
Lake Jackson, TX
Tuesday, March 23, 2021
I always enjoyed being around Grumps. He had a fantastic spirit that we could all learn from. Prayers to all🙏🏼.
Robert

Mrs. Marianne Mechura
Dubina, TX
Tuesday, March 23, 2021
When I was Ryan Faltisek's teacher, he brought his grandfather in to be a guest speaker for Ryan's history class. Mr. Faltisek's courage and humility were evident as he talked about World War II. He was reluctant to say anything about himself but rather focused on the historical context that was, for him, current events.
Two comments he made have stayed with me all these years:
When asked why he enlisted at such a young age, he said," I did not like what I heard Hitler was doing over there."
He was recognized for his military service at an OLQP Veterans Day program. He said, "The real heroes are buried over there."
Over the years, it always touched my heart to see him with his beautiful wife at Mass. He personified the Greatest Generation.


Gilbert H Hollub Jr
Buda, TX
Thursday, March 18, 2021
My condolences to Mr. Faltisek's family and friends. 

Thanks to Mr. Faltisek for serving our Country in our US Military, in  the Army United States Air Force during WWII !!

G H Sonny Hollub Jr.
Buda/Moravia/Sheridan
68-69 Vietnam
2/26 Marines, Echo, Guns

26thMarinesdotcom  

Lynette Biediger
Bandera, TX
Thursday, March 18, 2021
Sending our most sincere sympathies to Ollie and family. Emil will be missed. He was a model for deep faith, hard work and love of family and his God.
Years ago he donated his time and talent to building a kitchen play set for St Michael's Nursery. Many children enjoyed his creation. Such a blessing to having him touch all our lives.
Lynette Biediger and Claude Biediger (Former Parishioners)