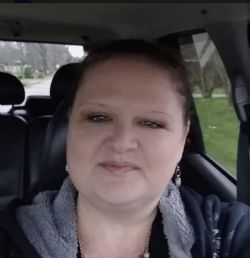 Victory Fellowship & Cowboy Church
208 Lazy Lane
Brazoria, TX 77422
Monday, March 22, 2021
11:00am - 1:00pm
Map & Directions


Send Flowers
Funeral Service
Victory Fellowship & Cowboy Church
208 Lazy Lane
Brazoria, TX 77422
Monday, March 22, 2021
1:00pm
Map & Directions


Send Flowers
Lori Beth Cross
November 11, 1979 - March 15, 2021
---
Lori Beth Cross, 41 yrs of age, resided in Angleton, TX passed away March 15, 2021 born, November 11, 1979 in Angleton, TX to parents Donald and Patsy Tompkins; siblings; Cheryl Erdman, Vicki Guenther, Tina Harper, Kevin Tompkins; Spouse: Eddie Cross. She was a housewife

She is survived by: Eddie Cross, Xavie Gage, Alissa Cross, Bethany Gonzales, Harminnie Mendez and Leah Love. She had 6 grandkids. Lori had 10 nephews, 6 nieces, 5 great nephews and 9 great nieces.

She is preceded in death by her son Mike Trevino and her grandson Joseph Love.

The service will be Monday, March 22, 2021 & Victory Fellowship and Cowboy Church, 208 Lazy Lane in Brazoria, TX with Officiant: Jamie Hill. Visitation will be at Victory Fellowship and Cowboy Church in Brazoria, TX from 10-11 for immediate family;11-12 open to public; Funeral will be at 1pm. Graveside will be at Cedar Lawn following the service.

Pallbearers: Xavier Gage, Christian Sanchez, Matthew Jones, Michael Sanchez, Brandon Jones and Shawn Harper.

Honorary Pallbearers: Donald Tompkins and Kevin Tompkins.

It Will Never Be Goodbye
Author Unknown

If I should go tomorrow
It would never be goodbye,
For I have left my heart with you,
So don't you cry.
The love that's deep within me,
Shall reach you from the stars,
You'll feel it from the heavens,
And it will heal the scars.

2 Condolence(s)

Lue Ellen Bergen
Angleton, TX
Friday, March 19, 2021
Lori it is never goodbye for we shall meet again in the future. So for now i will say so long see ya later. Love Aunt Lue Ellen

Lisa Pospisil
Sweeny, TX
Friday, March 19, 2021
Love y'all Aunt patsy and Uncle Bill