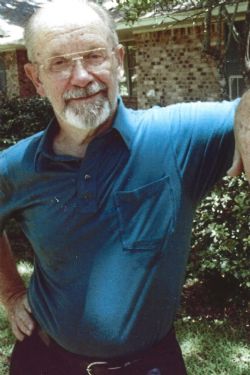 Memorial Service
Covenant Evangelical Presbyterian Church
102 Yaupon St.
Lake Jackson, TX 77566
Monday, March 22, 2021
2:00pm
Map & Directions


Send Flowers
Jesse Leonard Bain, Jr.
of Lake Jackson, TX
May 25, 1931 - March 18, 2021
---
Jesse Leonard Bain, Jr., 89 of Lake Jackson passed away peacefully surrounded by his loving family Thursday, March 18, 2021. Jesse was born May 25, 1931 in Uvalde, Texas to Jesse Leonard Bain, Sr. and Anne Sharp Bain. He was raised in Ft. Worth, Texas and attended Pascal High School. Jesse went on to graduate from The University of Texas in Austin with his Bachelors in Chemical Engineering. While Jesse was in the Army, he met the love of his life, Ann Cunningham at New York Avenue Presbyterian Church in Washington, DC. They married in Abingdon, Virginia on August 25, 1956 and for their honeymoon, moved to Austin, Texas. Upon completion of his Master's Degree, Jesse and Ann moved to Silsbee, Texas where Jesse worked for the East Texas Pulp and Paper Mill. After welcoming their two daughters, Jesse moved the family to Lake Jackson in 1968 where he went to work for Dow Chemical. While working at Dow, he was instrumental in building plants at Texas Operations, Tarragona, Spain, and Terneuzen, Netherlands. He retired in 1993. Jesse was a loving husband, father, grandfather, Pop-Pop, and friend. He always had a smile on his face. Jesse was a member of Covenant Evangelical Presbyterian Church in Lake Jackson where he was an elder serving on the Property Committee as well as working on the computers and sound systems. He volunteered with Habitat for Humanity and Lake Jackson Citizens' Police Academy. Jesse was a member of the Brazosport Computer Club and was a Ham Radio Operator where he would volunteer at the Houston Air Shows and for the Hurricane Crisis Management Team.

Jesse was preceded in death by his parents.

Jesse is survived by his loving wife of 64 years, Ann Bain; his daughters, LeeAnn Bain Mathews (Tommy) and Beverly Bain; granddaughters, Jessica Mathews and Ashley Mathews Pena (Adam); great-grandchildren, Kaylah San Miguel, Jacelyn and Landon Santimauro, and Adam, Jeremiah, Maddie, and Silas Pena; as well as numerous extended family and friends.
We would like to thank the Memory Care staff at Carriage Inn for taking such good care of our dad and Anne Nisbett with A-Med Hospice for her compassion in helping us with the final days.

A memorial celebrating Jesse's life will be held at Covenant Evangelical Presbyterian Church, 102 Yaupon, Lake Jackson on Monday, March 22, 2021 at 2:00.

The church has requested that appropriate measures be observed in consideration of the COVID guidelines, including masks and social distancing.

4 Condolence(s)

Brenda Matheus
Sanger, TX
Saturday, March 20, 2021
My condolences to Bev and all the Bain family. May our Lord give you strength and peace through this difficult time.

Johnetta Ivey
North Richland Hills, TX
Saturday, March 20, 2021
Bev and Bain family, I'm so sorry for your loss. My mom's service is today in MS. My thought and prayers are with you.



Hank & Susan Hooyerink
Prather, CA
Friday, March 19, 2021
Our sincere condolences to the Bain family, sending comforting thoughts to you all during this sad time.


G H Sonny Hollub Jr
Buda, TX
Friday, March 19, 2021
My condolences to Mr. Bain's family and friends. 

Thanks to Mr. Bain for serving our Country in our US Military, in  the United States Army !!

G H Sonny Hollub Jr.
Buda/Moravia/Sheridan
68-69 Vietnam
2/26 Marines, Echo, Guns
26thMarinesdotcom