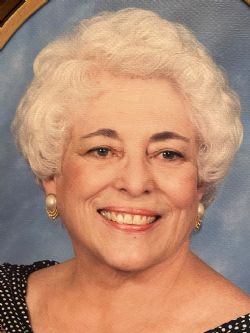 Funeral Home
Lakewood Funeral Chapel
98 N. Dixie Drive
Lake Jackson, TX 77566
Monday, April 19, 2021
11:00am
Map & Directions


Send Flowers
Delores Diane Williams
of Freeport, TX
May 16, 1937 - March 20, 2021
---
Delores "Diane" Williams was a teacher, loving mother, grandmother, great-grandmother and lifelong friend to many. She left this worldly classroom on March 20, 2021 at the age of 83.

She was born to Lorraine and J.C. Belvin in Brownwood, Texas on May 16, 1937. After graduating from Brownwood High School in 1954, she soon became a mother of three and life found her working nights as a telephone operator and spending her days as a full-time student at Howard Payne University. She finished her degree and discovered her calling to become a teacher.

Her first job took her to Pearsall, Texas and two years later to Brazosport High School where she taught social studies, history and government until she retired. Teaching was so much more than a job to her and she believed that teaching goes beyond the classroom. Diane was active in the community serving on various boards and committees for the city and the school she loved.

Anyone who knew Diane realized she was a loyal friend. She would go out of her way to offer help in any way she could. She had a lasting impact on generations of students who still think of her as a lifelong friend to this day. Her tireless dedication and devotion to her family, her students and her community will be greatly missed.

She is survived by her only brother James A. Belvin and wife Thelma of Las Vegas; her three children; James Williams and his wife Lori of Brownwood; Larry Joe Williams and his wife Thresea of Brownwood; and Linda Kay Closs and husband Tim of Freeport. She was also "Grandy" to grandchildren Jennifer Broughton and husband, Clint; Keeley Kirkland and husband Patrick; Shae Williams and Hailey Jo Williams. She was "Great-Grandy" to two great-grandchildren Lawson and Gwenyth and was looking forward to the arrival of her third great-grandchild, Hendrix.

She was preceded in death by her parents.


9 Condolence(s)

Rosia Barnes James
Freeport, TX
Sunday, May 23, 2021
Mrs. Williams what can I say?? This lady was a joy to me and helped me through a many hard times!!!! Integration was not easy but Mrs. Williams always treated me like everyone else so I felt at home in here class. She took the time to let me know it was alright to just to be myself at all times!!! She once took me to her church on one early Sunday morning, I guess to help me to understand that no matter our differences on the outside we were the same on the inside just 2 people with a love for God!!! To her children my deepest condolonces, but just know God loaned you a wonderful mother and for many other a wonderful friend!!! You will be dearly missed until I see you again Mrs. Williams!!! Linda Kay keep your head up!!!!

Tommy Jones Jr.
Melbourne Beach, FL
Sunday, April 18, 2021
Diane was a great friend to so many, including my father. She guided my sister during troubling times and was a rock to many, many youth of Brazosport. May she rest well.

T. Jones

Karen Jordan
Farmington, NM
Friday, April 16, 2021
Mrs. Williams was one of my favorite teachers. She challenged us in many ways. Her knowledge and work ethic were inspiring, and I have thought about her countless times since the early '70s. My sympathy to her family. She lives on in the sweet memories of so many people.

Audra Mitchell
Houston, TX
Thursday, April 8, 2021
Dear Ms. Williams,
As a student, you taught me how to better grow in discernment. Empowering us to learn about difficult subjects when textbooks failed is worth mentioning. You brought to our attention that there was one single sentence published as a summation of colossal historical events. Your integrity and insight to improve the exclusions in the core curriculum was an encouragement for me to discover more. The most significant documentary you presented to further educate us changed my way of life. For me, it was a revelation about humanity. That defining moment made such an impact that it motivated my career path years later.
Thank you for giving me truth and the courage to be my best person. I appreciate all your kindness, patience, and knowledge teaching from the heart. Your beautiful memory will continue to influence my life. I am grateful for you and will miss you. For the family, I am so sorry for your loss. My thoughts and prayers are with you.
(Love, Audra Mitchell)


David Gruener
, TX
Wednesday, March 31, 2021
Ms. Williams was one of my favorite teachers back in the late 70's. A great lady who made learning enjoyable.

Andria Joiner
Pleasant Grove, UT
Tuesday, March 30, 2021
Ms. Williams was a wonderful woman and great teacher I was blessed to have her as my teacher. Sorry for your loss

Lee terry
Brazoria, TX
Monday, March 29, 2021
You are in our thoughts and prayers, so sorry for your loss. Rest In Peace sweet Diane. Bill and Lee

Lisa Nielsen
Lake Jackson, TX
Thursday, March 25, 2021
So sorry for your loss. Hugs to you LindaKay

Laura Taff
Freeport, TX 77541, TX
Wednesday, March 24, 2021
My Dearest Mrs. Williams,
You impressed me early on in our times of meeting each other. You taught me out at the college so long ago. But, I for one have never forgotten you.
You impressed me with your knowledge of all subjects and your kind and selfless humor and personality. You had the patience of Job, I know. One night, I remember you were running a little late, God bless you, and you told us your house had caught fire, but you still made it to work to teach us what we needed to learn. You still had your sense of humor intact. That incident cinched my respect and admiration for you. You have always been one of those angels you could call on when you didn't quite understand the subject matter you were trying to get across to us students. You have always been in my heart and I know many others' hearts, also. You will be missed, I promise.
Love, Laura Taff