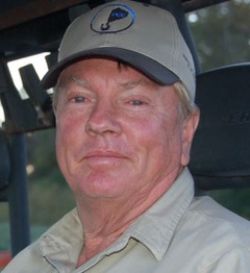 Brazos Pointe Fellowship
679 TX-332
Lake Jackson, TX 77566
Saturday, March 27, 2021
10:00am-11:00am
Map & Directions


Send Flowers
Funeral Service
Brazos Pointe Fellowship
679 TX-332
Lake Jackson, TX 77566
Saturday, March 27, 2021
11:00am
Map & Directions


Send Flowers
John Charles Lackey
of Brazoria, TX
January 30, 1947 - March 23, 2021
---
John Charles Lackey, 74, of Brazoria passed away Tuesday, March 23, 2021. He was born January 30, 1947 to Thomas Price Lackey and Elinor Shirey Lackey in Shreveport, Louisiana. John graduated from Brazosport High School in 1966. He spent his early years working for the family businesses Lackey Marine Electric and Saltwater Salvage. John married the love of his life, Lynette, in August of 1968. John and Lynette had three sons, Roger, Mark and Brian. He devoted 35 years to Lackey Electric & Refrigeration, a business he and his wife, Lynette, founded in 1977. Outside of work, he loved spending time with family and friends, loved to dance, loved hunting and being outdoors.

John is preceded in death by his wife, Lynette; his parents, Thomas and Elinor; his stepmother, Helen Lackey; and his brother, Pat Lackey.

John is survived by his sons, Roger Lackey and wife, Laura, of Brazoria, Mark Lackey and wife, Kelly of Lake Jackson, Brian Lackey and wife, Kimberly, of Colleyville; grandchildren ,Colton, Clayton, Andrew, Emma, Ellie and Ethan Lackey; brother, Tommy Lackey and wife, Edna, of Wharton; along with numerous nieces and nephews.

Pallbearers include Colton Lackey, Clayton Lackey, Andrew Lackey, Ethan Lackey, Clifton Chupp and Kurt Evans. Honorary Pallbearers include Jimmy Burger, Jimmy Evans, Coleman Locke and Marshall Locke.

Visitation will be held from 10:00 a.m. to 11:00 a.m. on Saturday, March 27, 2021 at Brazos Pointe Fellowship, 679 Highway 332 West, Lake Jackson, Texas 77566. Service will begin at 11:00 a.m. immediately following visitation.

Services are under the direction of Lakewood Funeral Chapel, 98 Dixie Dr, Lake Jackson, Texas. In lieu of flowers, memorials may be made to the church or charity of your choice.


4 Condolence(s)

Kenneth Simple
Angleton, TX
Thursday, April 1, 2021
My wife and I are extending our deepest sympathy to all the family in the loss of your loved one.

Kenneth & Carolyn Simple

Danette Depratter
Clute, TX
Thursday, April 1, 2021
RIP John. You Will be missed . Now you are with Your mom and dad. And my parents too.

Carolyn Shirey O'Brien
Mesilla, NM
Saturday, March 27, 2021
Dear Family,
I was saddened when I heard of John's death from my sister, Sarah Hutchison. John was my first cousin on my father's side. His mother was my aunt. I remember playing with John when we were children at out grandparents home in Louisiana. He was a sweet child and from everything I have heard, he was a good person and a hard worker. Please accept my deep condolences to you all.

Laura Ruddick Abbott
Clearwater Beach, FL
Thursday, March 25, 2021
My brother was David Ruddick who passed away several years ago. He adored John and Lynette and considered them great friends. John did quite a bit of AC repair work for me and my business Armstrong MCCall Beauty Supply. He was always so pleasant and professional and caring! Lynette helped me and my brother David set up quick books for my business and I was truly appreciative of her help. They were both so kind and loving. My heart breaks for your family as this is a great loss! Please know your in my thoughts as I pray for strength for your family to get thru this hard time. May the memories of the good times replace your sorrow!