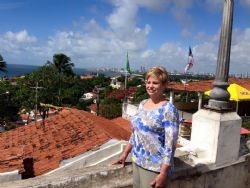 New Beginnings Community Church
400 Dixie Dr,
Lake Jackson, TX 77566
Wednesday, March 31, 2021
10:30am-11:00am
Map & Directions


Send Flowers
Funeral Service
New Beginnings Community Church
400 Dixie Dr
Lake Jackson, TX 77566
Wednesday, March 31, 2021
11:00am
Map & Directions


Send Flowers
Nancy Lee Knickerbocker Jernigan
of Lake Jackson, TX
June 10, 1953 - March 24, 2021
---
Nancy Lee Knickerbocker Jernigan went to be with her Lord and Savior on Wednesday, March 24, 2021. She passed away at home with her devoted husband of 50 years, Tom, at her side. Nancy was born in Austin, Texas, on June 10, 1953, to Verne F. Knickerbocker and Jane Wahlenmaier Knickerbocker Wood. As a child, she moved to San Angelo, Texas, where she graduated from San Angelo Central High School in 1971. At the age of 17, Nancy met the love of her life, Thomas "Tom" Calvin Jernigan, Jr., with whom she has two amazing children, Thomas "Trey" Calvin Jernigan, III, and Jana Renee Jernigan Harden. After moving to Angleton, Texas, Nancy attended the University of Houston Clear Lake and graduated with summa cum laude honors. She began her career as an accountant shortly afterward, and the family moved to their permanent home in Lake Jackson, Texas.

Nancy had an unwavering faith in God. In fact, one of her first dates with Tom was to take him to church. Nancy and Tom were founding members of the New Beginnings Community Church in Lake Jackson. Nancy was a vivacious and energetic woman. Everyone who met Nancy always remarked how happy she was. She had an infectious smile and laughter that could make anyone smile. Anyone who knew Nancy, knew her love for her dogs. Over the years, she and Tom adopted and fostered many boxers. Even while struggling with her illness, her primary concern was always for her sweet Sassy-girl and big boy Sam. After retiring, Nancy enjoyed traveling with Tom around the world. They became especially fond of Costa Rica where they visited often and made many friends. Her favorite memories were ones spent with her family, especially around the holidays. Of all her many accomplishments, she is most proud of her two children and granddaughter.

Nancy was preceded in death by her parents, Verne and Jane, step-father, Donald H. Wood, and step-mother, Kathy Frances Knickerbocker; her parents-in-law, Thomas Calvin Jernigan, Sr., and Clara Honea Jernigan; and her brother-in-law, William "Bill" David Jernigan, Sr. She is survived by her beloved husband, Tom; her brother Edward "Ed" Knickerbocker; her son Trey and his wife, Jessica Weik Jernigan; her daughter, Jana; her granddaughter, Claira-Elysse Reagan Jernigan; and her step-mother, Norma Y. Knickerbocker.

Family and friends are invited to the visitation on Wednesday, March 31st at 10:30am, followed by a celebration of her life at 11am. Visitation and celebration services will be held at New Beginnings Community Church, 400 North Dixie Drive, Lake Jackson, Texas, 77566. In lieu of flowers, please consider a donation to the Alzheimer's Association (www.alz.org) and Lone Star Boxer Rescue (www.lonestarboxerrescue.com).


10 Condolence(s)

Tom & Nancy Borman
MONTROSE, CO
Saturday, April 3, 2021
Our heartfelt sympathies to the whole family...She will be well remembered.
Sincerely...
The Other Tom & Nancy
(Borman)

Reagan Jernigan
Roesnburg, TX
Wednesday, March 31, 2021
I love you Grammy you will be miss by so many💕

Randy Caputa
Germantown, TN
Tuesday, March 30, 2021
So sorry to hear of your loss Tom. Nancy and the whole family will be in our prayers.

Deana Keller Wheeler
Lake Jackson, TX
Monday, March 29, 2021
My deepest condolences to Tom and family. Nancy was a kind lady and I enjoyed the years I worked with her. She will be remembered fondly.

Kristen Brown
Conroe, TX
Monday, March 29, 2021
It has been years since I worked with Nancy back in Sweeny, but she was one of my favorite people. She was very patient when I needed her help professionally and incredibly kind and encouraging when I needed her help as a friend. I am a better person for having known her.
I'm sending my love and prayers to the family.

Beverly Hughes
Houston, TX
Sunday, March 28, 2021
Mr.Tom It was a pleasure caring for Mrs. Nancy. She WAAC Loved.You were wonderful husband and a wonderful caregiver. You and your family will forever be in my prayers. Thank you once again for allowing me to care for Mrs.Nancy. She Will Be Missed.

Mark and Nancy Hall
Lake Jackson, TX
Saturday, March 27, 2021
Dear Tom and Family,

Our sincere condolences for your dearest loss of Nancy. She is in God's hands now. God speed Nancy. Love Mark Nancy and Jenna Hall


Lou and Elaine Conley
Lake Jackson, TX
Saturday, March 27, 2021
So sorry for Tom and family on Nancy's passing. Our hearts go out to them, Prayers for all and Nancy
Nancy always had a smile, a cheerful wave, and a moment for a quick chat. She will be missed. Prayers.

Burke & Christine Pleason
Lake Jackson, TX
Friday, March 26, 2021
Our hearts are breaking for the family's loss. Nancy was an amazing woman with a sweet spirit. We will truly miss her wonderful and infectious laugh. Good rest her beautiful soul.

Charlie and Traci Wade
Lake Jackson, TX
Friday, March 26, 2021
Nancy was an amazing soul...always smiling, cheerful, and radiating joy! She will be dearly missed.