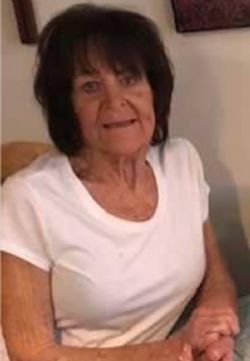 Graveside Service
Hillside Memorial Gardens
2834 TX-208
Snyder, TX 79549
Friday, April 2, 2021
10:00am
Map & Directions


Send Flowers
Janice Marie Chambless
of Lake Jackson, TX
March 19, 1938 - March 26, 2021
---
Friday March 26, 2021 Janice Marie Chambless was greeted in heaven by our Father with her daughters by her side. Born on March 19, 1938 in Burkburnett, Tx. The daughter of George Earl Dixon and Christine Elizabeth McKinsey. Anyone that knew Jan would describe her as kind, full of joy, eager to serve, and entertain others, Jan spent 20 years serving our community as owner/stylist of Rojans Hair Hut in Lake Jackson, Tx. Serving others was an understatement. Her passion was Texas Hold'em Poker games. Playing the game, building new friendships, cooking full course meals and desserts, and sharing conversations to last a lifetime. Jan took great pride in having a beautiful yard. She also loved taking her grandchildren every summer to the lake in Saline, LA. Janice was a member of the First Baptist Church in Lake Jackson, TX.

Janice is preceded in death by her husband Bill, son Tracy Joe, grandson Tracy Allen Childers, her parents George Earl and Christine; her stepmother Flonell Dixon; sisters Dorothy Jean Barnett, Ruby Earlene Johnson, her brother in laws and lifelong friend Nell Jinkins.

Janice is survived by her daughters, Nikki Williams (David), Teri McKee (Charlie Lindsay), and Denise Childers (Steven); grandchildren Jaime Doss Hopkins (Danny Hearrean), Carrie Holzhauer, Steven Self (Brandi), Courtney Williams, Lisa Hayes (Cody), Aimee Martin, Cody Lindsay (Shelby), Todd Childers, Jenna Ryder (Blake), Alyssa Harrison (Trae); 20 great grandchildren, 5 great great grandchildren and a host of nieces and nephews. Janice is also survived by her loving sisters Betty Lou Owens, Hallie St Clair Foster, and Tena Gayle McKinsey.

Services are under the direction of Lakewood Funeral Chapel, Lake Jackson, Tx and Bell-Cypert Seale Funeral Home in Snyder, Tx. Graveside services will be held at Hillside Memorial Gardens, 2834 TX-208, Snyder Texas 79549 on Friday, April 2, 2021 at 10:00 a.m. In lieu of flowers, memorials may be made to the church or charity of your choice.

WHEN I MUST LEAVE YOU

When I must leave you for a little while
Please do not grieve and shed wild tears
And hug your sorrow to you through the years
But start out bravely with a gallant smile
And for my sake and in my name
Live on and do all things the same
Feed not your loneliness on empty days
But fill each waking hour in useful ways
Reach out your hand in comfort and cheer
And I in turn will comfort you and hold you near
And never never be afraid to die
For I am waiting for you in the sky

By Helen Steiner Rice

5 Condolence(s)

Kathy Korczynski
Brazoria, TX
Friday, April 2, 2021
When I think of Jan I think of all the times she greeted me with a big smile and open arms with a tight hug to follow. I admired her strength and loving ways. The beautiful thing is that you will see her again, and you will be able to hold her forever, always remember that. Love y'all.. and I'm praying that God brings you peace.

Rebecca McFarland Duesterbeck
Richland Center, WI
Thursday, April 1, 2021
I have always love and looked up to Jan. She was and will always be greatly loved. Moving from Texas 12 yrs. ago, I found myself missing visits with her. May she be forever blessed and I hope to see her again soon in our beloved, longed for resurrection to life in the Olam Haba!

Shalom

Julie Morris
Lake Jackson, TX
Tuesday, March 30, 2021
There are so many things going through my mind. I've known Jan my whole life. She was my mother's best friend and we spent many days with her. She was my first boss as a hairstylist and she taught me the ropes of the buisness. There was never a hard working woman as her and always kind and helpful. The memories will always ring dear in my heart and will be truly missed. RIP Jan , give mom a kiss and tell Tracy and Bill I miss them. Love you❤️

Lisa Penney
Angleton, TX
Tuesday, March 30, 2021
Family
We will cherish all of our wonderful memories of your sweet Mom. We are so grateful Jan welcomed us into your family , we love her so much. May your memories comfort you & God give you peace. Our sincere condolences, hugs & love sent your way.
Richard & Lisa Penney

Ann Dunnavant
Lake Jackson, TX
Tuesday, March 30, 2021
Praying for your family!