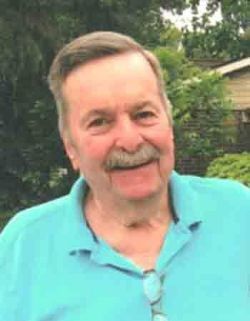 Celebration of Life
Lakewood Funeral Chapel
98 N. Dixie Drive
Lake Jackson, TX 77566
Saturday, April 3, 2021
4:00pm-6:00pm
Map & Directions


Send Flowers
Darryl William Evans
of Jones Creek, TX
February 17, 1938 - April 1, 2021
---
Darryl William Evans, 83, beloved father, grandfather, great-grandfather, brother, uncle, and friend departed this life on April 1, 2021. Darryl was born in Velasco, Texas on February 17, 1938 to the late Robert "Bob" and Maurie Evans and was a lifelong resident of Brazoria County.

He is survived by his loving children, Adriane Clift, Will Evans, Amy Evans, and Whitney Evans; nine grandchildren, Heather and Perry McClendon, Sarah and Mark Brown, Lili Clift, Zack Evans, Eleanor, Alice, and Frances King; four great-grandchildren, Jayden and Allyson McClendon and Aubrey and Skylar Brown; and brother and sister-in-law, Zack and Missy Evans.

He is preceded in death by his mother and father, Bob and Maurie Evans; and daughter, Allyson Evans.

Darryl lived life with a sense of humor that was immediately evident to all who met him. As a young man, he and his brother worked cattle with their dad, Bob, and made sure to keep the beers they drank hidden from his mother, Maurie. After graduating from Velasco High School in 1956, he joined the National Guard, where he was based at Fort Knox, Tennessee and was honorably discharged in 1963. He received his bachelor's degree in drafting from Sam Houston State University. Originally intending to teach woodshop, Darryl decided to take a different path and built a business with his brother, Zackie. Together, in 1969, they created Evco Industrial Hardware, which still stands in its original location at 606 Brazosport Blvd, Freeport, Texas.

Darryl loved his family and friends. He loved hearing their laughter and entertaining visitors with stories of his life. He supported the higher education of not only his children and grandchildren, but many others and was so proud of his family's accomplishments.

He will be remembered for his love of golf, fart jokes, and total inability to take a serious photograph. He loved fast cars, reading, crab boils, and taking his family to Schlitterbahn every summer.

In his final years, Darryl found a great friend in his caretaker, Emma Jones. Together, they laughed and talked, cooked, and enjoyed his final days. Emma was a source and joy for Darryl and his family, by his side to the very end providing love and comfort.

Pallbearers include Nola Dent, Zach Evans, Ronnie Alexander, Joe Harrison, Kenny Chaney, Ronnie McEntire, and Emma Jones.

A celebration of life will take place on Saturday, April 3, 2021 from 4:00 p.m. - 6:00 p.m. at Lakewood Funeral Home in Lake Jackson.

In lieu of flowers, the family requests memorial donations be made to Wounded Warrior Project.

5 Condolence(s)

Mary and Donald Groth
Richwood, TX
Thursday, April 8, 2021
Whitney I am so sorry to hear of your dads passing. My heartfelt prayers are going out to you and your siblings

G H Sonny Hollub Jr
Buda, TX
Wednesday, April 7, 2021
My condolences to Mr. Evans's family and friends. 

Thanks to Mr. Evans for serving our Country in our US Military, in  the National Guard !!

G H Sonny Hollub Jr.
Buda/Moravia/Sheridan
68-69 Vietnam
2/26 Marines, Echo, Guns
26thMarinesdotcom

Mary Alcala Williams
Beeville, TX
Saturday, April 3, 2021
My heartfelt condolences to the family! So many fond memories of growing up with Darryl creating fun times for us. From going crabbing to riding mules to swimming in a stock tank. Let's not forget flying sky-high from the tree swing in the front yard. In later years, he was always so happy to visit when I stopped into the store. He will be missed by so many.

LARRY D MARTIN
RUSTON, LA
Friday, April 2, 2021
So sad to lose a dear friend that I have known since childhood. The Evans were my second family that I love dearly. I grew up with Darryl and Zack and went with them on several trips to Houston, their farm and other places.
May God bless the family and hold them close.

Bobbie Jo Stieg
Jones Creek, TX
Thursday, April 1, 2021
Will,
Today is a very sad day. I loved Darrly very much and feel blessed to have known him. I am so deeply sorry for your loss. Many prayers being sent to you and the family.
Always,
Bobbie Jo Stieg-Lewellen