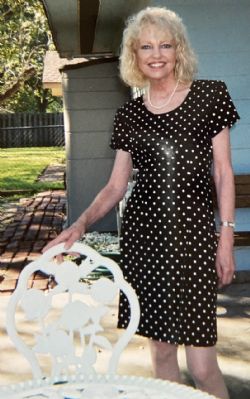 Lakewood Funeral Chapel
98 North Dixie Drive
Lake Jackson, TX 77566
Saturday, April 17, 2021
10:00am-10:30am
Map & Directions


Send Flowers
Funeral Service
Lakewood Funeral Chapel
98 N. Dixie Drive
Lake Jackson, TX 77566
Saturday, April 17, 2021
10:30am
Map & Directions


Send Flowers
Sheila Perkins
of Angleton, TX
February 5, 1949 - April 4, 2021
---
Funeral services for Sheila L. Perkins, age 72, of Angleton, TX will be held at 10:30 AM on Saturday, April 17th, 2021 at Lakewood Funeral Chapel with Rev. Pete Lopez officiating. The family will welcome friends at 10:00 AM. Interment will be held at Restwood Cemetery.

Sheila had a lifelong love for arts and was a stained-glass artist, writer of poetry, and a talented pianist. She obtained a music degree in college, and there she met her best friend and husband, Jerry. For over twenty-eight years they spent their days making happy memories together. Sheila will be forever loved and remembered by her family.

Survivors include daughter, Deanna Arnold (husband, Butch); step-daughter, Gigi Gregersen (husband, Beau); step-son, Kit Perkins; and five grandchildren and eight great grandchildren.

Sheila was preceded in death by her spouse, Jerry Perkins; parents, Gunnar and Opal Ruthstrom; sister, Leilani Gill; sister, Shirley Burden; and brother, Larry Laborde.

In lieu of flowers, the family kindly requests memorial donations be made to ASPCA.






2 Condolence(s)

Barbara Elizabeth Goode
Spring, TX
Friday, April 16, 2021
Dee and Family,
There were a lot of good memories of Sheila we all had some good times.
Now she not in pain or confused and is with those she loved.

Barbara, Mary Margaret and Brooke

Christine Turk
Conroe, TX
Wednesday, April 14, 2021
I'm so sorry for your loss. I will always have special memories of her. Praying for you all at such a difficult time.
Chris Turk