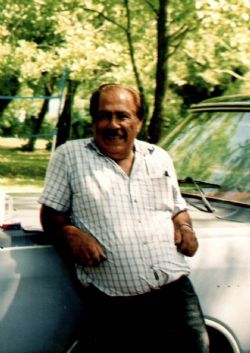 Lakewood Funeral Chapel
98 N. Dixie Dr.
Lake Jackson, TX 77566
Thursday, August 4, 2022
11:00am - 1:00pm
Map & Directions


Send Flowers
Rosary
Lakewood Funeral Chapel
98 N. Dixie Dr.
Lake Jackson, TX 77566
Thursday, August 4, 2022
12:30pm
Map & Directions

Funeral
Lakewood Funeral Chapel
98 N. Dixie Dr.
Lake Jackson, TX 77566
Thursday, August 4, 2022
1:00pm
Map & Directions


Send Flowers
Jesse Garcia Salazar
of Angleton, TX
September 21, 1939 - July 28, 2022
---
Jesse Salazar Sr., 82, of Clute, Texas, passed away peacefully on Thursday, July 28, 2022. He was born September 21, 1939, in Boling, Texas, to Juan and Rosa Salazar.

He was preceded in death by his parents; wife, Teresa Salazar; son, Jesse Salazar Jr.; daughters, Mary Ann Krampota and Angela Salazar; four brothers, Juan, Joe, Manuel and Gilbert Salazar; and three sisters, Anita Mendoza, Lionilia Mendoza and Connie Paiz.

He is survived by his daughters, Rosa Burton (Quintin, Sr.) and Carmen Salazar (Criss), son, John Anthony Salazar; sons-in-law, Glenn Krampota and Sistos Lara Sr.; 14 grandchildren, Tamara Robinson, Stephanie Trevino, Quintin Burton Jr., Tiffani Mallory, Britney Laws, Vanessa Burton, Dionisia Hernandez, Rene Hernandez Jr., Sistos Lara Jr., Chad Salazar, Robert Lara, Serena Salazar, Jordan Salazar and Katelin Krampota; 19 great-grandchildren with one on the way, and numerous nieces and nephews that he loved dearly.

Jesse grew up "out on the farm" in Boling and would often reminisce about hunting, fishing, his mother's cooking, and all of his siblings being hard workers. He worked at Western Seafood in Freeport, Texas, for over 40 years and could literally fix or build anything. He was a devoted husband, father and papaw. Family was everything to him and there was nothing he wouldn't do for them.

The family would like to thank his provider, Barbara Trevino, for taking care of him these past few years and treating him like family. Thanks to his great grandchildren, Ariana Burton, Armani Burton and Jacob Mallory for being his "Uber Driver" when needed. We would also like to thank the staff at Gulf Coast Primary Care and the staff and nurses at Angels Home Health.

Pallbears will be his grandsons, Sistos, Robert, Chad, Jordan and great grandson's Jacob Mallory, Isaiah Robinson, Frank Trevino, Jr. and Fabian Trevino.

2 Condolence(s)

Glenda Mendoza Chavez
Freeport, TX
Tuesday, August 2, 2022
Sending my deepest condolences and prayers to the family 🙏🙏🎁

Barbara
Angleton, TX
Monday, August 1, 2022
Sending my condolences to all the family so sorry for y'all loss🙏🙏🙏