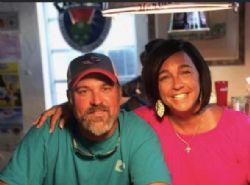 Brazos Pointe Fellowship
679 TX-332
Lake Jackson, TX 77566
Wednesday, August 17, 2022
11:00am-12:00pm
Map & Directions


Send Flowers
Funeral
Brazos Pointe Fellowship
679 TX-332
Lake Jackson, TX 77566
Wednesday, August 17, 2022
12:00pm
Map & Directions


Send Flowers
Julie Jennifer Baron
of Freeport, TX
September 26, 1969 - August 7, 2022
---
Julie and Ned Baron passed away on August 7th after a boating accident.

Julie was born in Philadelphia on September 26, 1969, to parents Phil and Elizabeth Bonnet, and was raised in Medfield, Massachusetts. Her adventurous spirit had her leaving home at early age and moving across the country to finally settle in Texas where her son Tyler was born in 1994.

Ned was born on July 2nd, 1969, in Freeport Texas to Big Ned and Sharon. Ned and Julie met in 1997 on the Gulf Coast waterfront where Julie was working for Fling Charter and Ned at Baron Marine Ways. Ned later inherited this business from his father. Ned and Julie were married in the Spring of 1999. A year later they added daughter Mackenzie into their family and Julie started working alongside Ned running the family business. Both Ned and Julie loved the Gulf Coast and proudly showed visitors what the region had to offer through Blue Fin Charters, the business they started together.

Julie and Ned were extremely engaged parents, never missing a baseball, softball, or football game, and attending countless tournaments when their kids were involved. Avid hunters, the family enjoyed spending weekends and holidays at their deer lease playing games and sitting around the bonfire visiting with friends and family.

Julie started participating in the rescue squad organization early on and served for many years working with adoptees and those of unknown parentage to identify and reunite with their biological families. Called a search angel by many she earned her wings giving searchers the ultimate gift of family.

6 years ago, Hurricane Harvey devasted our area. Julie has always had a special love for animals. At that time, however, she set out on what became her mission in life to help the many distressed animals in our county. Julie first served as a volunteer at the SPCA of Brazoria County and later, on the Board of Directors before taking on the role of co-Shelter Director and Transport Manager. Her purpose was to save them ALL! As many of you know, Julie relentlessly fought for and never ceased to work towards accomplishing this goal, literally saving thousands of animals along the way. Her impact on the animal welfare community in this county, in Texas, and beyond is immeasurable as is the enormous respect and admiration for Julie.

Ned spent many years growing the family businesses, proud to provide for his family and support all their endeavors. Ned was a man of the Gulf Coast enjoying flounder gigging and hunting with his buddies. A passionate BBQ cook he and his friend won numerous cookoff trophies always donating the prize money to non-profit organizations. Ned encouraged his wife's passion for animal welfare, donating his time and many a delicious crawfish boils to the cause! Ned also spent many years serving on the Brazoria Southwest Go Texan Committee, where he was a past Captain.

Aside from their civic involvement, Ned and Julie cherished spending time with their children, Tyler and Mackenzie and helping them thrive by encouraging their goals and dreams. Julie and Ned leave precious memories with son Tyler Ince and daughter Mackenzie Baron. Julie is also survived by her mother Elizabeth Bonnet, her father Phil Bonnet and his wife Jenny, her brother Tim Bonnet and numerous aunts and uncles. Ned is survived by his mother Sharon Moore, sister Gina Baron, and numerous aunts and uncles.

Serving as Pallbearers for the service will be Ross Watkins, Lee Weidner, Tracey Allen, Trey McCann, Vince Cannon, Jared Wines, DJ Kuchar, Jerry Monical, Rick Huber, Eric Simmons, Mark Friudenberg. Honorary pallbearers will be Jeff Stanley, Richard Monical, Greg Bryington, and Dawson Bryington.

Funeral services will be held on August 17th at noon at the Brazos Pointe Fellowship Church (679 Brazoria Road, Lake Jackson, TX 77566) which will be followed by a private family graveside service. The family will receive friends at 5:30 pm for a celebration of life at Capt. Marks Marina ( 4515 Trammell Road, Freeport (Demi -John)

In lieu of flowers, the family asks that you consider donations to the SPCA of Brazoria County (www.spcabc.kindful.com).





10 Condolence(s)

Bonnie Holley
Kingsport, TN
Thursday, August 18, 2022
Our sweet Julie, life in our adoption group of adoptees/birth parents won't be the same without you. You helped so many adoptees reunite successfully with their birth families. 9 years you played an important role in our group and to say we will miss you is truly an understatement. You gained your heavenly wings now search angel, please look over us and guide us. Respect and much love, Bonnie

eric seager
phoenix, AZ
Wednesday, August 17, 2022
my heart aches for the loss of my friend julie, we were in a spanish class in HS together even though she was a sr and i was a mere frosh, i have also enjoyed her friendship on fb for long time now, you will be missed

eric seager

Dr. Yvonne Baron Estes
Hill Country, TX
Tuesday, August 16, 2022
Ned and Julie supported Tyler and Mackenzie's every activity, even helping them raise big ol' cows to present at the county fair.

Julie and Ned were the best two people anyone could ever hope to know. They were kind, strong, and generous, doing their utmost to make the world a better place, starting with their beloved children.

If you were with them, you were going to have a great time, and if you needed anything, they were going to take care of you.

Because I'm having worrisome Covid-like symptoms, I don't expect to be at the services tomorrow, but I could at least do one thing for them. Julie had mentioned to me that they wanted to rest among the Baron family. Yesterday I signed my burial plot over to them.

Dr. Yvonne Baron Estes

Sharon Cain
Brazoria, TX
Tuesday, August 16, 2022
I am heartbroken with the passing of Ned and Julie. Julie was one of the first people I meet in Freeport when we move down here from Houston. Tyler and Mackenize if you need anything please let Ken and I know. We are here for both of you. Love ya'll.

Robin and Renee Rape
Clute, TX
Tuesday, August 16, 2022
Julie and Ned were both amazing people with hearts as big as Texas. Julie was a force to be reckoned with when it came to homeless pets. She cared so deeply for every animal she came across and Ned supported her mission wholeheartedly. The SPCA of Brazoria County will not be the same without her.
We are so proud to have known them and send Mackenzie and Tyler our deepest condolences.
Take care of our furbabies that have gone before us, Julie! ❤

Amanda Geither
Lake Jackson, TX
Tuesday, August 16, 2022
Such amazing people, Ned and Julie will be dearly missed <3

Patrice Capan
Chapel Hill, NC
Monday, August 15, 2022
Liz, your cherished memories will comfort you. So terribly sorry for this enormous loss.

Alanda D Hurley
BRAZORIA, TX
Monday, August 15, 2022
My deepest, heartfelt sympathy goes out to Tyler and Mackenzie and to the parents of Julie and Ned, as well as their extended family and to their friends. There are no words to convey the deep sadness I feel for all of you, for all of us that knew and loved them. Please know I will keep you all in my thoughts and prayers, praying for peace and comfort for all. -
~Alanda

Louise Garrison
East Falmouth (Cape Cod), MA
Monday, August 15, 2022
Two beautiful people! Such a great loss to their families and friends. Rest in peace Julie and Ned. My prayers are with your families. Louise

Jane & Bill Dennis
Dublin, TX
Sunday, August 14, 2022
Dear Phil,
It has been a very long time since I saw you when I was 14, at Buzzards Bay. I am very sorry to receive the tragic news of the deaths of Julie and Ned. Our large family is so scattered, it is very special to connect albeit a tragic moment.
I will pray for Julie and Ned; and for you.
Peace and Love,
Jane and Bill