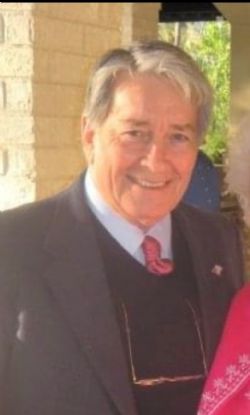 Lakewood Funeral Chapel
98 North Dixie Drive
Lake Jackson, TX 77566
Thursday, September 29, 2022
10:00am - 11:00am
Map & Directions


Send Flowers
Funeral
Lakewood Funeral Chapel
98 N. Dixie Drive
Lake Jackson, TX 77566
Thursday, September 29, 2022
11:00am
Map & Directions


Send Flowers
James Reid Perry
of New Braunfels, TX
April 30, 1934 - September 24, 2022
---
James Reid Perry was a loving husband, father, grandfather, and great-grandfather. He went home to meet his savior on Saturday, September 24, 2022. He was 88 years old. A viewing will be held at Lakewood Funeral Chapel, 98 Dixie Drive, Lake Jackson, Texas, 77566 on Thursday, September 29th 2022 at 10:00 AM with final services, officiated by Allen Ritchie, immediately following at 11:00 AM.
The services will be followed by an intimate graveside service for family only. In lieu of flowers, contributions can be made to Hope Hospice of New Braunfels or the Lake Jackson Church of Christ.
James was born in Trinidad, Texas, on April 30, 1934, to Eaphie Virgle Perry and Gladys Schnorr Perry Brewer. James' family moved frequently around east and southeast Texas before moving to the Freeport Lake Jackson area where he graduated from Brazosport High School in 1952. He was voted "Most-Handsome" his Junior and Senior years. After graduating high school, James attended Texas A&M for one year before transferring to The University of Texas in Austin. He served 2 years in the United States Army from 1957-1959 before returning to college and graduating from The University of Texas in 1961 with a BBA. James was the first person in his family to attend college, and he loved everything about The University of Texas, especially as it regarded to sports and his Texas Longhorns! He was an avid fan.
James met the love of his life, Patricia Anne Young, at a dance while he was home on leave from the Army over Christmas and they married March 28, 1959. They were married 63 years. James studied Hotel and Hospital Management fully intending to go into the hotel business. After graduating from college, he was the Assistant Manager of the Villa Capri Hotel in Austin, Texas; before returning to Lake Jackson in 1963 to manage Riverside Country Club until 1966. Fate then chose another path for him, and after short stints at Community Hospital of Brazosport and Sweeny Community Hospital, he became the Hospital Administrator of Angleton-Danbury Hospital from 1972-1988. James retired from UTMB in 2000. James and Patricia moved to New Braunfels in 2011 to be closer to family.
He is predeceased by his loving wife, Patricia Anne Perry, who passed just 3-weeks prior to James; all his siblings: Virgle Dean Perry, Barbara Ann Gray and Charles Maack Perry. He is survived by his children J.Reid Perry and wife, Kim of Cypress, Texas; Daryn Wasek and husband, Don of Austin, Texas; and Alyson Drake and husband, Scot of New Braunfels, Texas. His grandchildren included Kristyn Johnson (Seth), Austen Perry, Kymber Albrecht (Colton), Kyle Drake (Kenzie), Alyssa Wasek and Mitchell Wasek. His great grandchildren Braxton and Brody Drake.
Serving as pallbearers will be Austen Perry, Kyle Drake, Mitchell Wasek, Alan Gray, Charles "Chuck" Maak Perry, Keith Perry, Don Wasek, Scot Drake and Seth Johnson.
The family would like to thank Patricia Gooch for her excellent care and love especially at the end along with Hope Hospice of New Braunfels and his nurse Mary.
Arrangements in care of Lakewood Funeral Chapel, 98 Dixie Drive, Lake Jackson, Texas 77566.
979-297-6464 www.lakewoodfuneralchapel.com


4 Condolence(s)

Cleve Hardman
Allen, TX
Sunday, October 16, 2022
Although it had been many years since our paths crossed James Perry was my mother's first cousin. He was always very kind and thoughtful each time we interacted. I extend my heartfelt condolences to his immediate family.

Roy LoStracco
Danbury, TX
Sunday, October 9, 2022
Mr Perry was the first "Big" boss I had on my first job as a janitor at Angleton Danbury Hospital. Even though I was one of his lowest on the totem pole employees he went out of his way to treat me with respect. I appreciated that and tried to emulate that when I became a manger years later.
Another important life lesson he taught me was to arrange the toilet paper to roll off the top rather than the bottom!

Stephanie Cotton Simmond
San Antonio, TX
Thursday, September 29, 2022
I loved Uncle James, he was always so handsome and kind. He loved his family and was always welcoming to my Papaw's- Virgil Perry, side of the family. As a fellow UT alumni, we shared some stories! We are praying for the family and we wish you peace and reflection at this time.

Debbie Comneck
Spring Branch, TX
Tuesday, September 27, 2022
My heart truly hurts for your family! Hugs and prayers to all of you during this very difficult time. James and Pat are reunited! Yay!