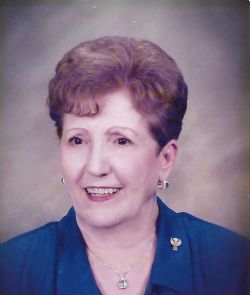 Rosary
St. Michael's
100 Oak Drive Saouth
Lake Jackson, TX 77566
Wednesday, November 16, 2022
10:30am
Map & Directions

Funeral Mass
St. Michael's Catholic Church
100 Oak Drive Saouth
Lake Jackson, TX 77566
Wednesday, November 16, 2022
11;00am
Map & Directions


Send Flowers
Mirella Sherman
of Lake Jackson, TX
November 9, 2022
---
Mirella C. Sherman, 93, of Lake Jackson, Texas passed away on Wednesday, November 9. She had spent the days prior surrounded by her daughter, grandchildren, and great-grandchildren.

Mirella was born in Scaperia, Italy, a province of Florence, on August 24, 1929, to her parents, Ugo and Pierina Cesarini. She and her family prevailed through the difficulties of World War 2 in Italy before immigrating to America. She arrived in America in July of 1954, coming through Ellis Island before arriving in Texas on July 9, 1954. She proudly became a US citizen in 1959. In 1960 she began a 58-year marriage to the love of her life, Earl, and had one daughter, Cindy, later that year.

Despite not knowing English when she arrived, she was able to secure a job at Weingarten's soon after arriving in Lake Jackson. She was incredibly grateful for the opportunity, and worked hard to not only be a good employee but to learn the language to assimilate into the American culture, though always remaining very proud of her home country. After Weingarten's, she spent 5 years working for Boggs Nursery School, Wilson's, and eventually retiring from Sablatura's Office Supply.

She was very proud to be a member of St. Michael's Catholic Church and was a member from the church's beginning as a mission. She was a C.C.D. teacher for 7 years, the final 2 being the coordinator of communion classes. She was one of the first presidents of the Women of St. Michael's, now known as the Catholic Daughters of America 2364, and served on the funeral committee and St., Vincent de Paul Society. She was also a longtime volunteer with the Brazosport Regional Hospital.

Nonna, as she was known to her grandchildren and great-grandchildren, was the definition of the American dream. She always put others first and was most proud of her volunteer work and family. Even at 93 years old, she was an avid user of Facebook, mainly to keep up with her family all over the world, and especially to see her great-grandchildren. She passed on the values of giving of one's self, the importance of faith and family, and the belief that you can accomplish all things through hard work and determination.

Mirella is preceded in death by her husband, Earl, sister, Luciana Farrar, and Brother, Nick Cesarini. She is survived by her daughter, Cindy Williams, grandchildren Cullen Williams and wife Lacey, Cody Williams, and Carly Williams, and her great-grandchildren Jackson, Josephine, and Jace, Sister-In-Law Elena Cesarini, and numerous nieces and nephews.

The family would like to thank the many family members, friends, and members of the Catholic Daughters for their support during this time, as well as Dr. Alkesh Amin for his many years of care. Also, a very special thank you to Marely Cordova and Mina Torres for their loving care for the past 5 years.

Funeral services will be held at 11:00 AM on Wednesday, November 16 at St. Michael's Catholic Church with Msgr. Leo Wleczyk presiding. The rosary will be from 10:30-11:00, also at St. Michael's. In lieu of flowers, please make donations to St. Vincent de Paul or a charity of your choice. Online condolences may be made to the family at www.lakewoodfuneralchapel.com.



4 Condolence(s)

Julia Ward-Maxwell
Bryan, TX
Wednesday, November 16, 2022
Praying for His peace to be with you all as you transition this loss of your loved one. She was a wonderful lady who touched many lives.

Jewel Ramirez
Lake Jackson, TX
Tuesday, November 15, 2022
My condolences to Cindy, Cullen,Cody, Carly and grandchildren and many friends. She was truly loved by her family and those that knew her. May she rest in piece in God's arms. Jewel Ramirez

Danny Daniels
Lake Jackson, TX
Tuesday, November 15, 2022
Cindy, I was so saddened to hear of your mothers' passing. She was a wonderful lady from what I remember of her. My thoughts and prayers are with you and your family at this difficult time. RIP Mirella. God Bless.

Teresa Gonzalez
Lake Jackson, TX
Tuesday, November 15, 2022
Wonderful memories of our family get togethers. Your mom was such a sweet lady and I know she will be missed.