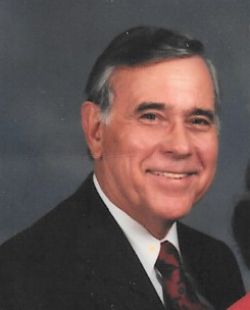 Lakewood Funeral Chapel
98 North Dixie Drive
Lake Jackson, TX 77566
Saturday, November 19, 2022
2:00pm - 4;00pm
Map & Directions


Send Flowers
Funeral
Immanuel Lutheran Church
500 Immanuel Rd Unit B
Pflugerville, TX 78660
Tuesday, November 22, 2022
2:00pm
Map & Directions


Send Flowers
Carl "C.W." William Matteck
of Lake Jackson, TX
December 2, 1931 - November 16, 2022
---
Carl William Matteck, Jr. (C.W.) was born on December 2, 1931 in Taylor, Texas to Carl (Sr.) and Edna Zieschang Matteck. He departed for his heavenly home on November 16, 2022, while at his home in Lake Jackson, Texas.

C. W. spent his early years in Taylor and upon high school graduation, he attended Texas Lutheran College (now TLU) and later completed his education at The University of Texas at Austin. In June 1955, he married Lois Klattenhoff at Immanuel Lutheran Church in Pflugerville, Texas. They moved to Lake Jackson in 1956 for C.W. to pursue a career at Dow Chemical. Following his retirement, they enjoyed traveling, bird watching, fishing, gardening, and volunteering at His Love Counseling Services and the San Bernard and Brazoria National Wildlife Refuges. They were always active in their Christian faith. They celebrated 48 years together. Early Lake Jackson residents will remember Matteck's Food Market, owned by his parents, where the whole family worked.

C.W. loved music and it remained a large part of his life beginning at age four with piano lessons. He began to play for Worship Services at St. Paul Lutheran Church, Taylor, while in high school. He played clarinet in the Taylor High School band and served as drum major, drum major at Texas Lutheran College, and as a band member of the Texas Longhorn Band. He continued to play organ and piano for countless Worship Services, weddings, funerals, and choir accompaniments. He also accompanied his granddaughter for UIL Solo and Ensemble contest while she was in school.

C. W. (and Lois) are survived by two children, Carla (Ernest) Schreiber and Steven (Christi) Matteck and their three grandchildren, Claire (Robert) Boyer, Riley Matteck, and Eli Matteck. Also surviving are local cousins Cheryl Deal Evans and family, and many wonderful nieces, nephews, cousins, close friends and neighbors.

Preceding him in death are his wife, Lois, his parents, and his sister, Doris Matteck Wolff.

Serving as pallbearers are Robert Boyer, Joey Evans, Eli Matteck, Riley Matteck, Mark Prinz, and Mathew Schwettman. Honorary pallbearers are Ralph Corry, Don Peters, Charles Wolff, Chris Wolff, Greg Wolff, William Young and Morris Zieschang. Lesson Readers are Claire Schreiber Boyer and Kathy Peters Metzger.

The family would like to express thanks to many caregivers who helped us during his later years.

Memorials may be made to Immanuel Lutheran Church, Christ Lutheran Church (6730 FM 112, Taylor, TX 76574), or a charity of your choice.

Visitation will be Saturday, November 19, 2022, 2-4:00 pm at Lakewood Funeral Chapel, 98 N. Dixie Drive, Lake Jackson, Texas.

Funeral Service and burial will be Tuesday, November 22, 2022 at 2:00 pm at Immanuel Lutheran Church, 500 Immanuel Road, Pflugerville, TX 78660

Final arrangements by the Turner Family at the Lakewood Funeral Chapel. Online condolences may be made to the family at www.lakewoodfuneralchapel.com


5 Condolence(s)

Gladiola Martin Kruse
Taylor, TX
Tuesday, November 22, 2022
Sorry to hear the news of C.W. He lived two blocks away from me when he lived in Taylor. Also, I went to school and church with him and his sister Doris. He was a very talented person. Sympathy to all the family.

Dorothy and Duane Rayburn
Lake Jackson, TX
Sunday, November 20, 2022
Oh our hearts are heavy. Your Mom and Dad brought such joy to so many . Your Dad's gift for music was shared not only at our wedding but at so many church services and brought happiness wherever he shared his talent. Their love of God was a leading example for many! Plus, they raised two extraordinary kiddos. We love you dearly and are so very sorry for your loss. What an exemplary life he lived. May God's peace surround you.


Susan Schmidt Smith
Highland Village, TX
Friday, November 18, 2022
I am so sorry for the loss of your wonderful father. I remember both of your parents. I understand how hard it is to care for our parents. Your have a very special heart to be there for him. Of course, you would not have had it any other way. My prayers for comfort and peace are sent your way.

Sharon Kane
Seguin, TX
Friday, November 18, 2022
Our sincere sympathy on the death of your father.
Joe and Sharon

Janice Ann Mitchell
Longview, TX
Friday, November 18, 2022
Love and deepest sympathy from the East Texas Matteck cousins, Janice Mitchell, Scott Hunter and Bruce Hunter.