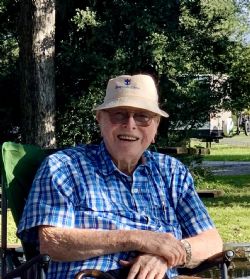 Lakewood Funeral Chapel
98 North Dixie Drive
Lake Jackson, TX 77566
Tuesday, January 3, 2023
5:30pm - 7:30pm
Map & Directions

Jones Creek Baptist Church
7334 TX 36
Jones Creek, TX 77541
Wednesday, January 4, 2023
10:30am
Map & Directions


Send Flowers
Wesley "Red" Wayne Mitchell
of Jones Creek, TX
August 6, 1931 - December 24, 2022
---
Wesley Wayne "Red" Mitchell, 91, of Jones Creek, Texas, passed away peacefully with his family by his side on Saturday, December 24, 2022.

Wayne "Red" was born August 6, 1931 in Kosse, Texas to James Wesley and Ila Muzetta Mitchell. He lived in Kosse until the family moved to Baytown in 1941. Wayne as he was called by the family attended elementary school in Goose Creek and Robert E Lee High School. After school, he joined the Air Force and was stationed in Korea from 1953-1958. In September 1961 he moved to Freeport to help run the Freeport Bowling Lanes. During that time he met his best friend and the love of his life Beverly Voigt who he married in June, 1962. He worked as a longshoreman. Later he worked for ICI Construction and became a pipefitter for Pipefitters Local Union #211 for the next 50 years. During those years he bowled the first official 300 game in Brazoria County. He also found time to play and sing with The Ramblers who would also play for the nursing homes in the area. He loved traveling, camping, and fishing with his family and friends.

He was preceded in death by his parents, grandparents, grandson; James Wesley Shiflet, nephew; James Edward Mitchell, brother in law; Bill Bradbury, and cousins.

He is survived by his wife of 60 years Beverly Mitchell; children, Mary M Serka (Phillip), Wanda J Dye, Wesley W Mitchell Jr (Anita); grandchildren, Bradley Serka (Maria), Lindsay Burmeister (David), Sarah Martinez (Ricky), Candice Sanderson (Kade), David Mitchell, Rachel Balusek; great-grandchildren, Brayden Sanderson, JS Serka, Kelis Martinez, Kalea Martinez, Lane Sanderson, Keely Martinez, Miles Serka, Sterling, Harrison, and Sylvia Burmeister; sister, Evelyn Bradbury; brother, James E. (Buddy) Mitchell (Kay); special family friends, Dave Mayberry, Mike Cox, and Jay King, and many other friends and family.

Pallbearers will be Kade Sanderson, Ricky Martinez, Brayden Sanderson, Lane Sanderson, Jay King, and Shawn Lease.

The family will welcome friends and loved ones from 5:30 PM to 7:30 PM on Tuesday, January 3, 2023 at Lakewood Funeral Home.

Funeral Services will be held on Wednesday, January 4, 2023 at 10:30 AM at Jones Creek Baptist Church 7334 Hwy 36, Jones Creek, TX.

Interment will be at Jones Creek Cemetery in Jones Creek, TX.