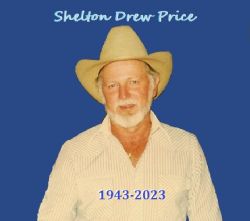 Lakewood Funeral Chapel
98 North Dixie Drive
Lake Jackson, TX 77566
Monday, January 16, 2023
11:00am - 1:00pm
Map & Directions


Send Flowers
Funeral
Lakewood Funeral Chapel
98 N. Dixie Drive
Lake Jackson, TX 77566
Monday, January 16, 2023
1:00pm
Map & Directions


Send Flowers
Shelton Drew Price
of Richmond, TX
April 3, 1943 - January 10, 2023
---
Shelton Drew Price was born April 3, 1943 in Angleton, Texas to the late Dorothy Perry and the late Shelton "Pete" Price. Shelton was raised by his mother and his late stepfather Jack Perry since the age of 2. He was called home peacefully, Tuesday January 10, 2023.

He attended Brazosport High School and would later join the Air Force.

He married Barbara Ann Kietchler on October 3, 1962 and were married for 51 years until her death in 2013.

He was blessed to have 3 children: Teresa Price Martinez, Michael Price (deceased) and Jared Price (deceased). He is survived by his loving daughter Teresa and her supportive husband Chris Martinez of Richmond, Texas. They loved and cared for Shelton in their home until his passing. He is survived by his brother Robert Price and his wife Delpha Price. He is survived by 2 grandsons Cody and Cory, five great grandchildren: Caden, Caycee, Cameron, Courtni, and Chance. He is also survived by many cousins, nieces and nephews and in-law family.

He was a member of the Millwright Local Union 2232 for over 55 years and served as their business agent for more than 10 years and as their international business representative for more than 5 years.

He loved hunting, fishing, and country western dancing with his eternal partner Barbara Ann.

He was a member of the Church of Jesus Christ of Latter-Day Saints for 70 years and served in many church callings, and in the Houston Temple for 10 years and would serve anyone in need if he knew them or not.

He loved his family and went above and beyond for them, sometimes to a fault. He loved his friends and was a great teacher and mentor to many. He was a patient and tolerant man, but Teresa says" when you saw his red face turn white it meant watch out"! He had a way with words such as: "dumber than a box full of rocks, the apple didn't fall far from the tree, get all you want but eat all you get and I'm glad you got to see me".

He loved to travel. Through his work life he traveled and lived in England, Jamaica, Holland, and Panama. He made friends easily and was loved and respected by many.

9 Condolence(s)

Paul and Janet Gillis
Lake Jackson, TX
Monday, January 16, 2023
Shelton, I was such a pleasure to ride with you to Stake Meetings in Bay City for many years. I enjoyed our conversations and your stories about growing up in the Brazosport area and your adventures in Panama. You were a faithful servant of the Lord and helped many people. Thank you for your friendship and all the good advice you sent my way. Your eternal friend, Paul Gillis

Ed Smith
Clute, TX
Monday, January 16, 2023
Loved Shelton and love his family. He will be missed.

Tim OKeeffe
Kingwood, TX
Sunday, January 15, 2023
I serve as an ordinance worker at the Houston Temple with Robert. The brothers were discussing if Sheldon had as colorful a personality as his brother. One guy said Sheldon got him in trouble by talking too much. Now that sounds like Robert to me. His service was appreciated and may God comfort your family in your loss.

Teresa Martinez
Richmond, TX
Saturday, January 14, 2023
To my loving father. You provided me with all I ever needed and mostly you gave me love. You were always there for me and anyone else who asked for help. You were a great provider for your family and a great teacher, mentor, sounding board and patient. I am so grateful you were my father and thank you for giving me life. I will miss you, but I know that you are with me and we are eternal beings. We will see each other again. Until then, may you be at peace. Love Always.

Linda Stifflemire Harkness
Scottsboro, AL
Friday, January 13, 2023
Sending my heartfelt sympathy to each of you mourning the loss of Shelton. I have many memories of him when I was much much younger. May you find joy in knowing he is enjoying seeing those he loves who had gone before him. Love to you all!

Linda

Jon Hardy
Spanish Fork, UT
Friday, January 13, 2023
Chris and Teresa, you took great care of him in his final years. I am sorry for your loss.

Gail Chevalier
Farmerville, LA
Thursday, January 12, 2023
So sorry for your loss. The years have flown by, but I know he was a good man. He is happy to be back with Betty and his sons.

Brandon Hernandez
San Antonio, TX
Thursday, January 12, 2023
We are praying for your family.

Brandon, Bonnie, Madeline and Gabrielle

Chris Martinez
Richmond, TX
Thursday, January 12, 2023
Hey Pops, I can't begin to tell you what a pleasure it was having you in our home the last 4 years of your life. It was an honor to take care of you and you were good company, always up for a chat and we'd laugh about millwright jobs and the characters we knew. When I met you I was only 17 years old, and I was setting up my 3 piece rock band in your garage to practice. You could have easily told us to get out of your garage, but you left for Astroworld with your young son Jared and left me alone to flirt with your beautiful daughter. You could have mad as hell when I took your baby girl away and eloped at 18, but instead you gave me a hand up, got me into the millwrights and gave me a career. I guess you didn't want to take care of another 18 years old. At any rate, I loved you as a father and as a friend. You were a great mentor and father figure, and without you my soulmate, your beautiful daughter Teresa does not exist. So thank you Pops, for getting all turned on by your lovely wife when she was but a teenager. I'm forever grateful to you, and you'll be missed around our house for sure! Your loving Son-in-Law, Chris.