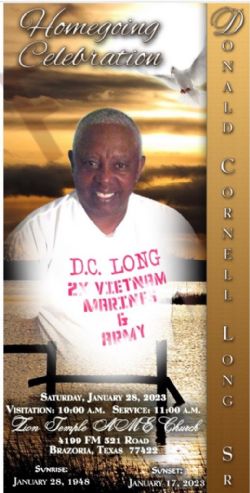 Zion Temple Church
4199 FM 521 Rd
Brazoria, TX 77422
Friday, January 27, 2023
5:00pm - 9:00pm
Map & Directions


Send Flowers
Funeral
Zion Temple Church
4199 FM 521 Rd
Brazoria, TX 77422
Saturday, January 28, 2023
11:00am
Map & Directions


Send Flowers
Donald "D.C." Cornell Long
of Sweeny, TX
January 28, 1948 - January 17, 2023
---
Donald Cornell Long, Sr. was born on January 28, 1948 in Saint Louis, Missouri to Eddie and Betty Long. Donald is preceded in death by both parents, grandparents, one brother and two granddaughters.
Donald graduated from Howardville High School in 1966 and went on to join the Marines for three years and then joined the Army and spent four years there. After the military he resided in Toledo, Ohio for several years before relocating to Texas. He had a few jobs before he discovered his passion in Lawn Care and Landscaping. In 1994 he decided to start his own lawncare and landscaping business called Long's lawn Care and Landscaping.
On October 8, 1994 he married Sammie Gail Roberts in Brazoria, Texas. In this union the two youngest children were born, Donald Cornell Long, Jr., and Kaa'yla Bee Long.
Donald departed this life on January 17, 2023 at HCA Hospital on the Mainland in Texas City, Texas.
His memories will forever be cherished by; his wife Sammie Gail Long of Sweeny, Texas; son Donald Cornell Long, Jr. and daughter Kaa'yla Bee Long both of Sweeny, Texas; son Donald Darnell (Lavonya) White of Toledo, Ohio; daughter Donna (Gerald) Haskins, of Toledo, Ohio; daughter Neiko (Robert) Jones of Houston, Texas; son Roderick (June) Long of Houston, Texas; son Mark (Thalia) Long of Sugarland, Texas; daughter Leah (Gachener) Joseph of Orlando, Florida; son John Long of Houston, Texas; daughter Rachel Long of Austin, Texas; sister Kay Long of Beeville, Illinois; brothers Eddie Long, Jr., James (Barbara), Booker, Warren and Ezzard Long all of Marston, Missouri; brother Artie Long of Saint Louis, Missouri; brother Reggie (Shawn) Long of Jacksonville, Florida; brother Lawrence Long of Byron, Georgia; twenty-seven grandchildren; thirty-four great grandchildren; one uncle (his Mother's Brother) John Warr of Southland, Michigan; and a host of nieces, nephews, cousins, friends and everyone that loved him.


7 Condolence(s)

Joe and Dolores Barrientez
Angleton, TX
Wednesday, February 1, 2023
Sorry for your loss. May the Lord bless you and your family .
Joe & Dolores Barrientez

Ray & Sandy Wagner
Angleton, TX
Monday, January 30, 2023
RIP DC you are a fine man and hard worker and good friend you always came by and checked on me and we would visit and talk you are one of my Marine brothers Semper Fi DC see you one day on the side.

Bobby & Pam Mullennix
Damon, TX
Sunday, January 29, 2023
Prayers to the families

Kay Long
Belleville, IL
Sunday, January 29, 2023
Thank you!

Viola Funeral Home
West Columbia, TX
Friday, January 27, 2023
We the family of Viola Funeral Home would like to offer our sincere condolence on the loss of your loved one. Sammie to you and the children we pray for peace as you go through this difficult time.

Barbara Woodard
Cedar Lane, TX
Thursday, January 26, 2023
To Sammie Gail, Buddy, and Kayla, yall are in my thoughts and prayers on the passing of my good friend Rev. Long, he was a kind and gentle giant who made me feel welcomed whenever I visited his home. I'll always remember the laughter, and the conversations we all had together. Rest in Heavenly Peace my dear friend, Rev. Long!!!!

Bruce Crecy and family/Peaceful Rest Cemetery board - President
Brazoria, TX
Tuesday, January 24, 2023
Sammie, you have my condolences. Condolences to the family as well.
RIP my friend DC. The kindness of DC in the community will be missed.