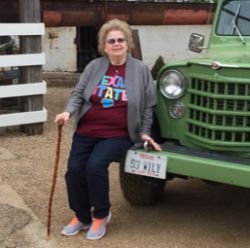 Lakewood Funeral Chapel
98 North Dixie Drive
Lake Jackson, TX 77566
Wednesday, February 1, 2023
4:30pm - 6:30pm
Map & Directions


Send Flowers
Funeral
Lakewood Funeral Chapel
98 N. Dixie Drive
Lake Jackson, TX 77566
Thursday, February 2, 2023
10:30 am
Map & Directions


Send Flowers
Helen Ferrell Allen
of Lake Jackson, TX
February 28, 1946 - January 27, 2023
---
Helen Ferrell Allen 76, was born on February 28, 1946 in Aransas Pass, TX and passed away to be with Jesus on January 27, 2023 from her home in Lake Jackson, TX. Visitation will be 4:30-6:30 pm Wednesday at Lakewood Chapel. Funeral services will be 10:30 am Thursday, February 2, 2023, at the Lakewood Funeral Chapel. She will be laid to rest at Gulf Prairie Cemetery.

Helen was a wonderful Mother, an adored Nana, a caring Aunt and a true friend. She lived a life worth remembering and cared deeply for those she loved. Her strength, joyous laughter and guidance was shared with her family and friends. Helen started her own salon business called Golden Scissors back in the 80's and then went on to work at JCP Hair Salon where she retired in February 2014. She built friendships with her clients and those she worked with that became some of her closest friends. Helen had 3 brothers, one was her twin and a sister, all that she loved and has been missing so much because she was the last survivor. She cared so much for her nephews and nieces and enjoyed being able to visit and spend precious time with each of them. Helen, otherwise known as Nana to her only grandson Mitchell whom she adored. She lived with us and taught him so many lessons that helped guide him into becoming an amazing young man. She was the best Mom, she was always there for my brother and I no matter what, you knew she would move heaven and earth to be there for you, she was my rock. Her joy was contagios and we have so many beautiful memories that I will cherish until I see her again in heaven. I cannot explain how much she will be missed, a part of my heart is missing.

She is preceded in death by her parents, Ralph Albert Taylor and Elvia Sylvester Gregory and sister Hazel Miller and brothers Tony Taylor, J.R. Taylor, and twin brother Terrell Taylor.

Helen (Nana) will be greatly missed by her children, Carolyn Oden and Donald Allen Jr. and her only grandchild Mitchell Oden.

1 Condolence(s)

Sherri & Danielle Hoss
Richwood, TX
Tuesday, January 31, 2023
My dearest family, I can't begin to express our sadness in the passing of our Aunt Ferrell, she is a light that can never be extinguished. She has always been there when you needed her, no matter the circumstances she could always bring a smile to your face and the Lord to your heart. There is a piece of our hearts missing that belongs to her, a void only she can fill, a song that only she can sing, and and laughter that only she can bring. Much love to all and God Bless all, we will see you in heaven.