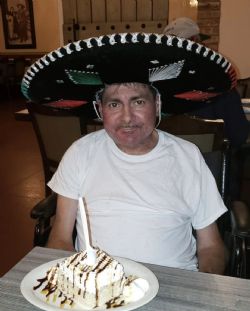 Lakewood Funeral Chapel
98 North Dixie Drive
Lake Jackson, TX 77566
Thursday, February 10, 2022
10:00am -1:00pm
Map & Directions


Send Flowers
Funeral
Lakewood Funeral Chapel
98 N. Dixie Drive
Lake Jackson, TX 77566
Friday, February 10, 2023
1:00pm
Map & Directions


Send Flowers
Felix Cruz, Jr.
of Brazoria, TX
March 8, 1967 - February 2, 2023
---
Felix Cruz Jr. 55, passed away on February 2, 2023, at his residence in
Brazoria, Texas.
Felix was born in Tulia, Texas to Felix and Esperanza Cruz on March 8,
1967. He attended school in West Columbia.
Felix left behind his three boys Esteven Ray Cruz, Gabriel Miguel Rangel,
Joel Alexander Cruz and his siblings Felix Cruz (Bozo), Lucy Lopez, Arthur
Cruz, Jimmy Cruz, Jesse Cruz, Christine Gonzalez and James Cruz.
Felix was a wonderful Father, Son, Brother, Uncle and Grandfather. He
lived a life worth remembering and cared deeply for those he loved. He was
the best DAD, he was always there when his boys needed him, no matter
the circumstances.
Felix will be greatly missed by his grandchildren, Rei Isaiah Cruz, Joel
Alexander Cruz Jr., Victoria Louise Rangel, Raelyn Isabella Cruz, Novah
Alezander Villarreal Cruz and Jacquelyn Olivia Cruz.
The pallbearers will be Esteven Cruz, Gabriel Rangel, Joel Cruz, James
Cruz, Arthur Cruz and Felix Cruz.