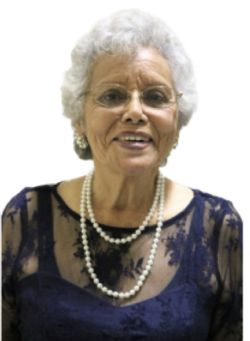 Visitation
Lakewood Funeral Chapel
98 North Dixie Drive
Lake Jackson, TX 77566
Wednesday, March 15, 2023
5:00pm - 8:00pm
Map & Directions


Send Flowers
Funeral Service
St. Jerome Catholic Church
201 N Lazy Lane
Clute, TX 77531
Thursday, March 16, 2023
10:30am
Map & Directions


Send Flowers
Silveria Martinez
September 1, 1924 - March 13, 2023
---
Silveria Moreno Martinez passed away peacefully surrounded by loved ones on Monday, March 13, 2023. She was born in Freeport, Texas, Sept 1, 1924, to Nabor and Josefa Moreno. Silveria was a hardworking, ambitious woman who always found time to care and comfort those she loved. She played in a band with her siblings and loved to play the accordion for her friends and family. She was a member of the Catholic Daughters of America and was a devout member of the St. Jerome's Catholic church. She is preceded in death by her parents Nabor and Josefa Moreno, husband Basilio Martinez, granddaughter Sara Silvas, Son-in-law Tony Cabrera, along with 4 brothers and 4 sisters. She is survived by daughter Estella (Tony deceased) Cabrera; son Rene Martinez; daughter Sulema (David) Cruz; daughter Belia De Los Reyes (John); and son Miguel (Yolanda) Martinez and 14 grandchildren along with 22 great-grandchildren to carry on her loving memories. Viewing will be at Lakewood Funeral home, 98 N. Dixie Drive, Lake Jackson on Wednesday from 5:00 - 8:00pm with the rosary beginning at 6PM. Funeral services will be held on Thursday, 10:30am at St. Jerome's Catholic Church in Clute with burial proceeding after at Restwood Memorial Cemetery.

Pallbearers will be Marcos Cabrera, Martin Martinez, Michael Martinez, Christopher Cruz, Angela Cruz, Esteban De Los Reyes, Marcos De Los Reyes, and Gabriel Martinez.

2 Condolence(s)

Erlinda & Domingo Gonzales
Pearland, TX
Tuesday, March 14, 2023
Our condolences to all the family.
May Jesus Christ, our Lord & Savior, give you comfort and
Strength. He will ease your pain.
Rest in Peace, Tia

Rachel Eldridge
Pflugerville, TX
Tuesday, March 14, 2023
My prayers for you and your family. May God bless you.