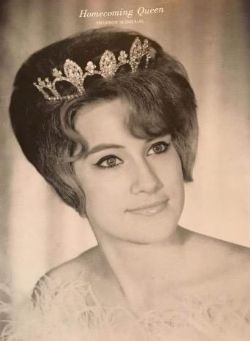 Visitation
Lakewood Funeral Chapel
98 N. Dixie Dr.
Lake Jackson, TX 77566
Sunday, March 19, 2023
1:00pm-2:30pm
Map & Directions


Send Flowers
Funeral Service
Lakewood Funeral Chapel
98 N. Dixie Drive
Lake Jackson, TX 77566
Sunday, March 19, 2023
2:30pm
Map & Directions


Send Flowers
Sharron Ray
December 17, 1945 - March 13, 2023
---
Our beloved mother, Sharron McDougal Ray passed away on March 13, 2023 where she resided with her daughter in the east Texas area for the past seven years because of Alzheimer's/dementia she suffered with. She was surrounded by family at the time of her passing. She was born in Freeport,Tx on December 17, 1945. Sharron is a lifelong resident of Clute, Tx where she was involved in the community her whole life. She was Brazosport High school's homecoming queen in the fall of '63 . She graduated with the class of '64 at BHS. She was involved in cheerleading to all athletics starting at Clute Jr high till her senior year at Brazosport. She received her lifetime membership in PTA. She retired from the school district BISD where she was employed for 25 yrs. Her most proud accomplishments was with her church Friendship ABA Missionary Baptist in Clute, Tx. She was a Sunday school teacher, youth director and played the piano. Mother was preceded, in death, by her beloved parents Frank Edward McDougal and Willie Mae Cobb McDougal both of Clute Tx. and her brother Dan Edward McDougal of Brazoria, Tx. her husband who she adored Donnie Earl Ray (D.Ray) they had been married thirty-seven years at the time of his passing in 1999. They went on to have 5 children and she is preceded in death by her two sons Donald Earl Ray Jr. (Donnie Ray or little Donnie) and her baby boy James Edward McDougal Ray. She is survived by her Daughters Elizabeth Ray Brady of pine hill, Tx. Andrea Ray Grubbs of Mount enterprise Tx and husband Michael. Karen Catherine Ray of Clute Tx. Grandchildren Mason Grubbs Briscoe and husband Justin of Buffalo,Tx. Mikey Grubbs of Mount Enterprise Tx. Bo Brady and wife Kaitlan of Henderson Tx. Courtland and Colton Brady of pine hill,Tx Brayden Kopycinski of lake Jackson Tx Jason Cast of brazoria,Tx and Gabriel Rubio Jr. of lake Jackson Tx. Donnie Ray, Jenna Ray and Haley Ray of lake Jackson Tx. Great grands Kasyn Grubbs, Everly Briscoe, Ashton Brady and Nathanael Brady. Many nieces and nephews she adored. Pallbearers Shannon McDougal Truby McDougal JR Jimmy McDougal Royce McDougal Mikey Grubbs Bo Brady Courtland Brady Colton Brady and Brayden Kopycinski.



6 Condolence(s)

Sharon Mitchell
Jones Creek, TX
Wednesday, March 22, 2023
Sharron and I worked together in BISD.
She was such a sweetheart and one
of the kindness people I ever met...
I'll see you my Dear friend in our Heavenly Home some glad reunion day... 🙏

Nancy Wood
Clute, TX
Saturday, March 18, 2023
Have known you forever Sharron Ray. You played piano for me so many times while I sang Sunday mornings at Friendship Missionary Baptist Church in Clute. Your family has always been like family to me especially Andrea. You will be sorely missed by everyone who knew you.

Vicki Shafer
Diana, TX
Thursday, March 16, 2023
Sharon and her family were always an extension of my family through the years we lived at Clute. The girls were like our girls, boys like our boys especially Jamie. The love that I had and still have for this family is unwavering. My prayers are with you Elizabeth, Andrea and Karen as you lay your sweet mother to rest. Be comforted that she's in the presence of Christ. I love you girls! Vicki Shafer

Carroll and Sandy Jones
Timpson, TX
Thursday, March 16, 2023
We are so sorry to hear of Sharon's death. She was a very sweet friend and church member to Carroll in his early years of ministry at Friendship Missionary Baptist Church in Clute. It is so hard to lose our precious loved ones but it is such a wonderful blessing to know that because she accepted Christ as Savior that she is with the Lord and we will see her again. We will be praying for all of you in the days ahead. May God bless you all. We love y'all. Carroll and Sandy Jones

Nelda Armstrong Hartley
Tupelo, MS
Thursday, March 16, 2023
Went to Clute Elementary and BHS with Sharon. She was a very Special person. Praying for her family.

Cynthia Croft Bass
Richmond, TX
Wednesday, March 15, 2023
Beautiful sweet friend beginning in Clute Elementary.
Rest in peace Sharon.