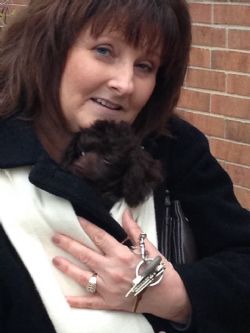 Visitation
Lakewood Funeral Chapel
98 N. Dixie Dr.
Lake Jackson, TX 77566
Friday, April 28, 2023
2:00pm - 3:00pm
Map & Directions


Send Flowers
Funeral Service
Lakewood Funeral Chapel
98 N. Dixie Drive
Lake Jackson, TX 77566
Friday, April 28, 2023
3:00pm
Map & Directions


Send Flowers
Angela Kay Johnston
of Lake Jackson, TX
March 23, 1962 - April 20, 2023
---
Angela Kay Johnston, of Lake Jackson, Texas, passed away unexpectedly Thursday, April 20, 2023. Angie spent 61 years on earth loving her family and friends before being called home to Jesus.



Angie was born on March 23, 1962 in San Angelo, Texas. As the child of a Naval Master Chief, she spent much of her youth moving about the country. She graduated from Lakewood High School in Tacoma, Washington in 1980, after which she attended Angelo State University from the fall of 1980 to the spring of 1981. In 1984, she married and then had two children, Krystal and Kelsie, with first husband, Officer Scott Smith of the Odessa Police Department, before he succumbed to injuries sustained in the line of duty on February 6, 1988. She married Billy Johnston of Angleton and settled in Lake Jackson in June 1993, where they built a life for themselves and their blended family of four daughters. Angie loved God and treasured the Psalms and Philippians 4:8. She had a passion for service and taught 9th and 10th grade Sunday school at Willow Drive Baptist Church with Billy for nearly two decades. She dutifully served Dow Chemical Company and Olin as Senior Administrative Specialist. Angie loved the Astros and watched and attended as many games as possible. When not at an Astros game, Angie could be found taking motorcycle rides with Billy, along with siblings David and Laura Johnston and friends J and Renetta Moore. Her family meant everything to her, especially her grandchildren; she loved being a Gigi more than anything. She also cherished and spoiled her faithful dog, Hershey.

Angie was preceded in death by husband Scott Stanton Smith, mother Mickey Maxine Jones, and father Guy Ralph Harrison. She is survived by husband Billy Johnston, daughter Krystal Cudmore with son-in-law Michael Cudmore, daughter Kelsie McLeod with son-in-law Christopher McLeod, daughter Amber Jenkins with Jason Lanier, daughter Traci Perez and her husband Jaime Perez, mother Penny Harrison, mother-in-law Nancy Hall, grandsons Noah Gregory and James Cole, grandchildren Robert Melendez, Mikey Cudmore, Peyton Sierra, and Ethen Jenkins, siblings Shel & Kim Harrison, Vicki & Tom Gurley, Ken & Traci Harrison, Susan Smithson & Jamie Vaughan, and Laura & David Johnston, nieces and nephews Brandon & Kaci Dyson, Kassie & Jason Casbeer, Kellie & Kaleb Long, Karrie Johnston, Shel Harrison II, Abigail James, Joshua Harrison & Zoe Stephens, Gage Harrison, Payton Harrison, Taylor Harrison, and Briley Harrison, and great nieces and nephews Brynlie Dyson, Kannon Dyson, Addison Casbeer, Ezekiel Long, Harrison Casbeer, and Krew Dyson, as well as many other family members and treasured friends.

Pallbearers will be sons-in-law Michael Cudmore, Christopher McLeod, Jason Lanier, and Jaime Perez, and grandsons Noah Gregory and Robert Melendez.



Visitation will be held Friday, April 28, 2023 from 2:00 p.m. to 3:00 p.m. at Lakewood Funeral Home in Clute, TX; a Celebration of Life will immediately follow at 3 p.m. Please send flowers to Lakewood Funeral Chapel, at 98 Dixie Dr. in Clute, TX 77566.

15 Condolence(s)

Wells Carter
Pearland, TX
Friday, April 28, 2023
I miss Angie. She was a work colleague at Olin Angleton site. My deepest condolences to her family and friends.

Liz Fosterf
SWEENY, TX
Friday, April 28, 2023
I am sorry for your loss. Angie was a pleasure to work with and will be greatly missed by the admin group at Olin. I hope you take comfort in how many people loved and thought so highly of her.

Uzoma Echeruo
Iowa Colony, TX
Friday, April 28, 2023
I am sorry about your loss. I worked with Angie at Olin, but i first met her at Dow. She was always helpful and cared about the things you care about. She will be missed.

Cesar
Pearland, TX
Friday, April 28, 2023
I worked with Angie in the past at Dow and had the pleasure to work with her again at Olin. Always remember Angie as: good spirited, willing to help others and strong passion for the Astros.

Quote:
Although it's difficult today to see beyond the sorrow, May looking back in memory help comfort you tomorrow - Unknown Author

Eric
Angleton, TX
Thursday, April 27, 2023
I am so saddened by Angie's passing. Angie was a true blessing and will be greatly missed. She was a very dedicated professional who helped her Dow and Olin family in many ways. She helped make the workplace a home with her style, friendly nature, and organizational skills. She organized many events and outings for the R&D group, including volunteer events. We are eternally grateful and blessed to have known her. God bless the family and give you strength during this time.

Markus Schroetz
Baltringen,
Wednesday, April 26, 2023
So sad to hear. I worked mostly remotely with Angie in DOW and in Olin. I will remind her as always friendly and supportive.

Eva-Maria Michalski
Rheinmuenster,
Wednesday, April 26, 2023
I am very sorry for your loss and my thoughts are with you. I know Angie for many years from Dow and Olin times and even if we had not so many changes to meet in person, I will always keep her in mind as such a helpful colleague.

Charles and Connie Stacks
Killeen, TX
Tuesday, April 25, 2023
My dear cousin Billy, words can not express how sorry we are to hear of your Angie's passing. Our Father God in heaven is the only one who knows why she was taken so young. Sending prayers for the Lord to wrap his arms around you and all your family during this time of loss and give you the comfort and peace only he can provide. We met Angie at Uncle Paul's funeral and we felt the sweetness of her soul then. I am so sorry to say I have surgery this week and will not be able to attend her funeral, but know that my thoughts and prayers will be there in spirit. Thank you again Billy for being there for us when my mother passed. Love you Billy.


Nicole Schaefer
Missouri City, TX
Tuesday, April 25, 2023
Please accept my most heartfelt condolences on the loss of Angie.

I had the opportunity to work with her at Olin in Angleton and will keep her in my memory as an exceptional work colleague.
I know she will be dearly missed.

Huifeng Qian
Pearland, TX
Monday, April 24, 2023
I am very sorry for your loss. I worked with Angie in the last several years in Epoxy R&D. She is so kind and always very helpful. She will be truly missed.

Chuck and Angie Moad
Odessa, TX
Monday, April 24, 2023
I was so shocked to hear about Angie. I can't imagine the pain at your loss. Please know me and Angie have you in our prayers. While I did not see her as often as her girls, I still remember her with deep admiration and fondness for being able to deal with all the things that have been thrown at her over the years and raise such amazing girls. God bless y'all and comfort you as you move forward.

Michael and Lorie Nettles
Lufkin, TX
Monday, April 24, 2023
Billy we are devastated for you and your families loss even though we didn't get to spend much time with yall, Angie will be severly missed. We love yall and prey God will give you the strength to get through this.

Kelsey Kibodeaux
Lake Jackson, TX
Monday, April 24, 2023
I am so very sorry for your loss! She was always so sweet to work with.

Julie Dojahn
Angleton, TX
Monday, April 24, 2023
I was deeply saddened to learn of Angie's death. We worked together at Dow Chemical and Olin and knew one another for many years. She had a wonderful, kind, and generous spirit and I enjoyed talking with her and being her friend. Angie, you will be greatly missed by me and all of your work family at Olin. Rest in peace.

Bill Mercer
Lake Jackson, TX
Sunday, April 23, 2023
I was so sorry to hear about Angie. I worked with in Epoxy R&D both with Dow and then Olin. She liked the Astros as she had several bobble heads. She will be missed.