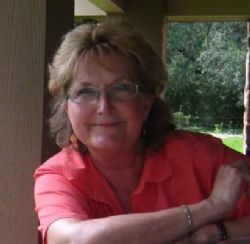 Memorial Service
Sweeny Church of Christ
501 N. Elm St.
Sweeny, TX 77480
Saturday, May 6, 2023
2:00pm
Map & Directions


Send Flowers
Donna Lyn Schwebel
of West Columbia, TX
April 25, 1953 - April 18, 2023
---
Donna Lyn Schwebel, of West Columbia, Texas, passed peacefully next to her husband on April 18th 2023 at their second home in Rockport, Texas. Even though she has been taken away from this world, we're happy knowing that Heaven has one more beautiful angel.
Donna was born on April 25th 1953 in Freeport, Texas to David and Hazel Chapman.
After graduating from Freeport High School in 1971, she joined the United States Air Force and completed her training to become a nurse. She was stationed at Nellis AFB in Las Vegas and Cannon AFB in New Mexico during her time in the service.
She had recently retired from Dow Chemical and Olin after a long and successful career for over 20 years.
Besides spending time with her family and friends, Donna enjoyed traveling with her husband and family, playing cards, volunteering within the community, and attending church every Sunday.
Affectionately known as Mimi, Donna was such a caring and giving woman who was always someone you can count on and trust. She could always make anyone smile or laugh with her wit and sense of humor. Donna was always able to make light of any situation and she touched so many lives with her generosity and love for others.
Donna is survived by her devoted husband of almost 19 years, Darrell Schwebel; daughters Hayley and Anne Elizabeth; sons Doug and Jimmy; five grandchildren Robin, Austin, Rylan, Rowan, and Philomena; siblings Teresa and Steven. She was preceded in death by her parents and loving sister, Gail.
Family and friends are invited to attend a memorial service on Saturday May 6th 2023 at 2:00 p.m which will be held at the Sweeny Church of Christ located at 501 N. Elm St. in Sweeny, TX.
In lieu of flowers, the family requests that any donations be made to a charity of their own choosing.



6 Condolence(s)

Bruce Crecy
Brazoria, TX
Saturday, April 29, 2023
Condolences to the family.

Tracy Gupton
West Columbia, TX
Friday, April 28, 2023
Sincere sympathy extended to Darrell and family. So very sorry for your loss and sharing your grief at this difficult time.

Erik Teets
Angleton, TX
Wednesday, April 26, 2023
I only knew Donna through working with Olin chemical. Our interactions usually had to do with something in our SABA training. No matter what the issue Donna was always extremely friendly and helpful!! I could tell in general she was a good person. We only met a couple times face to face, but I can honestly say that it was my pleasure to have met you Donna!!!
God bless!!!

Doyle Hinton
Dandridge, TN
Tuesday, April 25, 2023
Our deepest condolences, Donna helped so much in the Angleton Little League for years while our boys all played ball together. She will be missed. 🙏🙏

Mary Alcala Williams
Beeville, TX
Tuesday, April 25, 2023
My heartfelt condolences to the family! Donna was a kind and beautiful woman.

Mary Lamb Evans
Rockwall, TX
Monday, April 24, 2023
I have so many happy childhood memories of my time with my very special friend Donna. We both lived on 6th Street in Freeport Texas, and spent many hours in Arrington Park, and playing cards on her front porch. We walked to and from school together from elementary through high school. Donna had reached out to me after we both married, but it was not a good time for me and I did not stay in touch. I retired recently and had found her contact information and planned to get in touch after I returned from vacation, but learned while I was away that she had passed. I am sorry I missed telling her what a special friend she was. Thank you Donna. Love, Mary