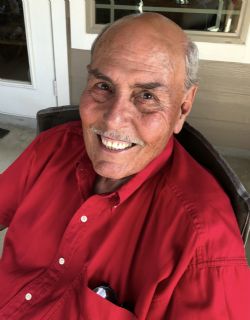 Visitation
Brazos Pointe Fellowship
679 TX 332
Lake Jackson, TX 77566
Saturday, April 29, 2023
1:00 pm - 2:00pm
Map & Directions


Send Flowers
Funeral Service
Brazos Pointe Fellowship
679 TX 332
Lake Jackson, TX 77566
Saturday, April 29, 2023
2:00pm
Map & Directions


Send Flowers
Charles Earl Cadenhead

of Lake Jackson, TX
May 1, 1937 - April 22, 2023
---
Charles Earl Cadenhead, 85 of Lake Jackson, passed away peacefully with his wife asleep at his side and surrounded by his daughters after a long battle with Alzheimer's on Saturday, April 22, 2023. Born in Tolar, TX on May 1, 1937 to the late Hattie Mildred Davis and Haskill Virgil Cadenhead, Earl grew up in Clute after his dad got a job at Dow Chemical. He was born the second son of five brothers, the Cadenhead boys from Kyle Road. After graduating from Brazosport High School in 1954, Earl joined the United States Army. Serving for three years total, he spent a year and a half in the Korean War. When he came back from Korea, he found the love of his life, Claire Brooks, while she was waiting for the bus. They celebrated 65 years of marriage on March 22 during which they had three children, Schelli, Gigi, and Chuck. He was the jack of all trades, working in public finance before realizing his calling as a self-taught civil engineer. From his job as a construction superintendent for the Texas Prison System until his retirement from Sorrell Construction in 2019, there was never a morning he wasn't up at 4 AM, coffee in hand, headed to a job.
Earl, or Honey as his first grandchild dubbed him, was at home when he had a hammer in his hand or was in the seat of a lawnmower. He was truly an artist with his tools and built his house from the ground up. Over the years, he made countless treasures for family: first birthday gifts, treehouses, furniture, birdhouses, etc. A true romantic at heart, every card was filled with his poetry expressing his love for each of us. He wasn't afraid to tell you what he thought, and he didn't care who heard it. A quintessential patriot, nothing made him more proud than to fly Old Glory. He was generous, giving of his time, money, and love. He was always happy and had a million dollar smile. He always had a story to tell whether you wanted to hear it or not. He loved to talk. Every family gathering ended with Earl playing the harmonica - at Christmas with a bow on his head. You'd never know that he didn't attend Brazoswood or Texas A&M. He spent many Friday nights sitting at Hopper cheering on the Bucs, and he was so proud to be an Aggie Grandparent. He loved researching family genealogy and took several trips to Scotland with Claire where he got to walk at the head of the Caden River. If a grandchild or great grandchild had a choir concert, baseball game, dance recital, orchestra concert, tennis match, or rodeo event, you could bet that Honey was there cheering them on. He loved Jesus with all of his heart and made sure his family knew it, even reading his Bible while on vacations at the Frio River. Above all, his greatest gift to us was his beautiful example of unconditional love for Meemee.
Earl is preceded in death by his father and mother; his brothers, H.V. Cadenhead and his wife, Edna, George Cadenhead, and Buddy Cadenhead; his in-laws, Jeff and Eva Brooks; his brothers-in-law, J.E. Brooks and James A. Brooks; and his son-in-law, William Baker. His memory will live on with his wife, Claire Cadenhead, his daughters, Schelli Martin (husband Jim) and Gigi Baker, and his son, Chuck Cadenhead (wife Lisa). He will continue to be loved by his brother, Doug Cadenhead (wife Sue) and his sister-in-law, Sallie Cadenhead, as well as his numerous nieces and nephews and his dear friends, Dolores and Everett Stovall. His memory will be cherished by his grandkids, Brandyn Hargrove (husband David), Emilye Rodgers (husband Dean), Barrett Baker (wife Brenda), Blaine Baker, Annie Shandley (husband Darren), Brooks Hill (husband Wade) and Cade Cadenhead. All the fun times spent with Honey will be remembered by his great grandkids, especially Carter Hargrove, Claire and Jameson Rodgers, and Bradley Baker.
We take comfort in knowing that Honey has seen the face of Jesus and is now completely whole and healed with no more pain or confusion.
We will celebrate his life with a visitation at 1 pm on Saturday, April 29, 2023 at Brazos Pointe Fellowship, 679 Hwy 332, Lake Jackson, TX with funeral service immediately following at 2 pm. Burial will be immediately following at Restwood Memorial Park in Clute, TX. Pallbearers will be Jim Martin, David Hargrove, Dean Rodgers, Barrett Baker, Blaine Baker, and Everett Stovall.
Earl's family would like to thank the staff at Country Village Care in Angleton, TX for the exceptional care he received in the final months of his life, especially Zac, Haley, and Monty. We are also so thankful that his final days were made easier under the palliative care he received from Janice and Pat with Choice Hospice. There truly are not adequate words to express our love for all of you.
You can make a donation in memory of our Honey to help us stop this horrible disease to the Alzheimer's Foundation of America, 322 8th Avenue, 16th Floor, New York, NY 10001.


4 Condolence(s)

Karen Guillot
Lake Jackson,
Thursday, April 27, 2023
Gigi, Please accept our most heartfelt condolences on the loss of your Dad. We are thankful for his service. Even though we never met him personally, I felt like I already knew him by all your pictures and words. Every time I passed your parents home, I never failed to admire their yard. I know that every plant and every tree was out there with love. May GOD hold all of you during this difficult time. I'm sure William was there to welcome your Dad home. May he REST IN PEACE until you see him again.

Patricia Mager
Angleton, TX
Thursday, April 27, 2023
Oh GiGi…I am so sorry to hear about your daddy. Prayers for you and your family during this time. Knowing that he is in God's hands is a comfort and a peace. Love ya'll

Tammy Azlin DeLeon
Lake Jackson, TX
Wednesday, April 26, 2023
The Cadenhead Family,

I hold each of you in my prayers. I always remember the love and happiness Honey showed Mrs Claire and his family. He was truly one of a kind and will be definitely missed.

Love
Tammy DeLeon

Julia Hutchins Newton
Huntsville, TX
Wednesday, April 26, 2023
Clarice, was sorry to read about Earl. Know you will miss him.
My thoughts & prayers are with you & family.
Julia H. Newton