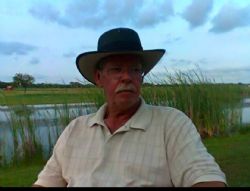 Memorial Service
Austin Bayou Golf Course, Club House
2111 CR 33
Danbury, TX 77534
Saturday, May 6, 2023
3:00pm
Map & Directions


Send Flowers
David Allen Egger

of Danbury, TX
June 21, 1947 - April 24, 2023
---
David Allen Egger, 75, was born on June 21, 1947 in Warren, PA. He went to be with his Lord and Savior on Monday, April 24, 2023 surrounded by his family.

David was survived by his wife, Roxie Egger; daughters, Melissa Davis and husband Andrew, Wendy Johnston and husband Chris; 5 grandchildren and 7 great-grandchildren; sisters Kelly and Amy; numerous nephews, cousins, family and friends.

He was preceded in death by his parents, Wallace Egger and Anna Egger and brother Thomas Egger.

David and Roxie enjoyed 55 years of loving marriage. He was in the Army and served in Vietnam. He retired from BASF after 30 years. He loved his family and life. He enjoyed fishing, racing, baking, golfing, playing in a country western band and was a great artist.

Memorial will be held Saturday, May 6th at 3:00 pm at Austin Bayou Golf Course club house located at 2111 CR 33 in Danbury, TX with Deacon Randall Jennings officiating.

Plants and/or flowers will be received at 1703 Ave B; Danbury, TX 77534 through Friday the 5th and at 2111 CR 33; Danbury, TX 77534 until 1pm Saturday the 6th.



7 Condolence(s)

Barbara Ferry Squyres
Yoakum, TX
Saturday, May 6, 2023
Our thoughts and prayers are with you and your family today and in the days of ahead. Love to you all. Walter and Barbara

Scott snider
Texas city, TX
Sunday, April 30, 2023
I love ya gramps

Melissa Davis
Bartlesville, OK
Sunday, April 30, 2023
Miss you Daddy!

Scotty and Tina Martin
Worthing,
Sunday, April 30, 2023
Our hearts and prayers go out to all of David's family and friends.
He will be missed! Love y'all!

Elizabeth (Kitty) Brown
Spring Branch, TX
Sunday, April 30, 2023
The entire Brown & Hefner family sends our deepest condolences and prayers along with love and support to you all. Love to you Roxy and the girls & family.

Robert Schuck
Weimar, TX
Saturday, April 29, 2023
I had the good fortune of meeting David back in the mid 70s. He was the real deal. A genuinely good man.

Grant mock jr
La Marque, TX
Friday, April 28, 2023
sorry for your loss Love to all