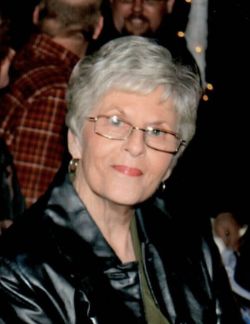 Visitation
Lakewood Funeral Chapel
98 N. Dixie Dr.
Lake Jackson, TX 77566
Tuesday, May 9, 2023
6:00pm - 8:00pm
Map & Directions


Send Flowers
Funeral Service
Lakewood Funeral Chapel
98 N. Dixie Drive
Lake Jackson, TX 77566
Wednesday, May 10, 2023
2:00pm
Map & Directions


Send Flowers
Beverly Jeanne Anderson
of Lake jackson, TX
December 13, 1941 - May 6, 2023
---
Beverly Bartow Anderson, aka BB, 81 of Lake Jackson went to be with the Lord, peacefully on Saturday May 6, 2023 with her family by her side. She was born December 13, 1941 to Adrain and Edna King.
She was married to the love of her life, M.E. (Andy) Anderson for 29 blissful years. They are now reunited in Heaven.
She graduated from Brazosport High School in 1960. She retired from BISD as a lunchroom manager in 2007 after 34 years of service.
BB as she was affectionatly known, loved cooking for her family and friends. Going to her house felt like walking into a restaurant from all the aromas of her cooking. She was a caregiver by heart and was always looking for ways to help others. Usually with a batch of her famous chocolate chip cookies or her delicious pecan pies. She loved pulling the one armed bandits at the casinos and always insisted on stopping by a Dairy Queen for a blizzard and sending her grandkids a picture just to aggravate them. She was loved by many and our memories of her love for each of us will live on our hearts forever.
She is preceded in death by her husband Andy, her parents Adrain and Edna King, sister Janice Mobley and her beloved dog Gigi.
She is survived by her daughters Robin Closs (Tom) and their children Luke Harralson (Brandi) and Lane Harralson (Brenna). Redonda McDaniels (John) and their children Johnathon McDaniels (Jennifer Lynn) and Haley McDaniels, step children Ricky Anderson (Mitzi) and their children Kyndal Anderson, Rikki Lea Neslony (Alex), Makensey Anderson. Rene Linder (Steve) and their son Dylan Linder. Her sister Pam Riddle, brother Rik King (Nell), step grandchildren Thomas Closs (Sarah), Taylor Closs (Abbey), Tristan Cox (John), Racheal White (Previn), Brittany McDonald (Ethan). 15 great grandchildren, numerous nephews and nieces. Her best friend Joy Platte, along with many others she called family, not by blood but by love.
Funeral services will be held 2:00pm Wednesday, May 10, 2023 at Lakewood Funeral Chapel. Family will receive friends between 6:00pm and 8:00pm Tuesday May 9, 2023 also at Lakewood. In lieu of flowers the family request donations be made to The Gathering Place, 200 E. Mulberry, Angleton, TX 77515 or the SPCA. Online condolences can be made at Lakewoodfuneralchapel.com.




1 Condolence(s)

Cindy Doolan
Brazoria, TX
Tuesday, May 9, 2023
I'm so saddened by this news. Beverly was my boss,teacher,mentor, and most of all she was my friend. I worked with her for several years at BISD. She was my inspiration to better myself and she believed in my capabilities. Thank you Beverly for all the years of friendship and sharing your family and grandchildren with me. You and Andy were a match made in heaven and now you two are together again. I will think of you often and smile really big… Next time I go pull the slots it will be in your honor. I love you!!
Cindy Doolan