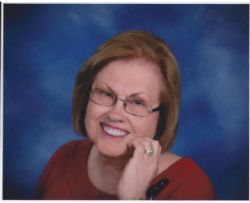 Visitation
Lakewood Funeral Chapel
98 N. Dixie Dr
Lake Jackson, TX 77566
Friday, May 12, 2023
6:00pm - 8:00pm
Map & Directions


Send Flowers
Funeral Service
Lakewood Funeral Chapel
98 N. Dixie Drive
Lake Jackson, TX 77566
Saturday, May 13, 2023
10:00am
Map & Directions


Send Flowers
Lanelle Davis
of Lake Jackson, TX
June 1, 1940 - May 6, 2023
---
Retha Lanelle Davis
Lanelle Davis, 82, of Lake Jackson, Texas went to be with her Lord and Savior on May 6, 2023. Lanelle was a native Texan who called Angleton and Lake Jackson her home for over 60-years.
Lanelle was born on June 1, 1940 to Arthur Lee and Vergie Lee Argabright in Waco, Texas. Her family later moved to Watt, Texas where she attended Axtell High School. Lanelle was the homecoming queen her senior year at Axtell High School and graduated as the Valedictorian of her high school class of 1958. She was awarded a full year of paid college tuition to any state school of her choosing.
Lanelle did not attend college right away, but instead married Don Davis who she had met through her brother Glenn. They were married on July 3, 1958 by Don's uncle, Pastor R.C. Wylie, at Spring Street Baptist Church in Waco, Texas.
One of Don's aunts got Lanelle her first job at the American-Amicable Life Insurance Company located in the historic ALICO building in Waco. In 1961 the young couple moved to Angleton and then later Lake Jackson, Texas after Don accepted a job with Dow Chemical. While Don was working at Dow Chemical, Lanelle worked at Lorraine Construction company in Angleton, Texas.
Don began his business, Davis Refrigeration & Air Conditioning, in 1971 and later changed the name to Davis Air Conditioning and Heating, Inc. Lanelle built and operated the accounting department for Davis Air Conditioning. As the company quickly grew and expanded into multiple locations, Lanelle guided the accounting department until her retirement.
Lanelle was a dedicated Christian and was an active member of First Baptist Church in Lake Jackson. She was active in several charities. She served on the Board of Directors for The Pregnancy Help Center and was a volunteer at the Texas Port Ministry. She had a passion for travel and learning about other cultures. In her lifetime she managed to explore four continents. Some of her favorite trips included historical sites in Israel, Jordan, Egypt, Morocco, and Russia. She loved spending time with her family and enjoyed visiting with her grandchildren and great grandchildren.

Lanelle is preceded in death by her husband of 64-years, Don; her mother, Vergie Argabright; father, Arthur Argabright; and brother, Glenn Argabright.
Family left to cherish her memory include her son, Bryan Davis & wife Lisa; daughter, Terry Davis Snook; son, Steven Davis & wife Mandy; 8-grandchildren including Heather McCain, Melissa McGee, Cameron Snook, Jonathan Davis, Katy Snook, Josh Davis, Paris Davis, & Elijah Davis and 4-great-grandchildren; Quinn McCain, Lucas McCain, Evelyn McGee, & James Davis and 2 sisters; Linda Burns and Jenny Martin.
Funeral services will be held at Lakewood funeral Chapel on Saturday, May 13, 2023 at 10:00 a.m. at 98 Dixie Drive at Dixie Drive, Lake Jackson, Texas. Pastor Chad Alexander from First Baptist Church, Lake Jackson will be officiating the service. The interment will be held at Restwood Memorial Park. The family will receive friends at Lakewood Funeral Chapel from 6:00 p.m. to 8:00 p.m. May 12, 2023. Pallbearers will be Ben McCain, Juston McGee, Cameron Snook, Jonathan Davis, Josh Davis, and Elijah Davis.