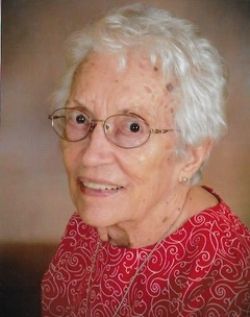 Visitation
Lakewood Funeral Chapel
98 N. Dixie Dr.
Lake Jackson, TX 77566
Monday, May 15, 2023
6:00pm - 8:00pm
Map & Directions


Send Flowers
Funeral Service
Lakewood Funeral Chapel
98 N. Dixie Drive
Lake Jackson, TX 77566
Tuesday, May 16, 2023
10:30am
Map & Directions


Send Flowers
Antha Jean Good
of Texarkana, TX
September 24, 1928 - May 8, 2023
---
Jean Good was born September 24, 1928 to Ernest and Nelbert Capers Smith, and departed this life on May 8, 2023 having lived a long and happy life guided by her deep Christian faith, a love for others and a belief that we can all make the world a better place.
Jean was born in Dallas where her father operated a shoe repair shop on Greenville Avenue. A child of the depression and World War II eras, she learned to be frugal and practical, while always willing to assist those less fortunate than herself. In 1945 she enrolled in Abilene Christian College where she met Bruce Good, and the couple were wed in 1948. After Bruce graduated from ACC, the young couple lived in several communities in north Texas and southern Oklahoma while Bruce began his lifelong career as an art teacher. Encouraged by several college friends, in 1956 they moved to the growing town of Lake Jackson with their children Ellise, Craig, and Connie in tow. Bruce began teaching at Lake Jackson Junior High, and later taught at Brazosport High School and Brazosport College. The family grew along with the Brazosport community with the later addition of children Kevin, Carvel, and Lowell in their new home. Always an avid learner, in the mid-1960's Jean resumed her college studies and graduated from Sam Houston State University where she received her BA and MLS. In 1967 she began her career as a librarian, working at Lake Jackson and Freeport Intermediate Schools, where she shared her love of books and reading with thousands of young students. While tolerant of the high energy levels of these youngsters, she was also known to be able to restrain the antics of those that got out of hand with a firm gaze from across the room. Jean was a long-time member of the Church of Christ and later the First United Methodist Church of Lake Jackson and Hardy Memorial Methodist in Texarkana. After her retirement she continued to serve her community through several volunteer activities.
Rising early each morning, Jean began her day with scripture reading and the now-rare habit of corresponding with friends and family via handwritten letters before tending to the needs of the household and departing for her school duties. Thanks to her management skills and delegation of tasks to her children, the home ran smoothly while she was still able to assist with church activities and enjoy the companionship of her many friends and neighbors. Bruce and Jean greatly enjoyed attending dramatic productions and musical performances of all kinds and instilled a love of musical and visual arts in their children (who know the lyrics of many Broadway musicals by heart from repeated listening to recordings of these performances).
Jean's love of travel began in the late 1930's when her parents took her and her best friend on a trip from Dallas to West Texas where they camped in the newly established Big Bend and Fort Davis parks using a homemade travel trailer. She loved to explore the world and its history, and her many journeys took her across Europe, to Egypt, and the United States from Alaska to Maine. Each destination was a new adventure to be enjoyed and she never tired of seeing new sites. Invariably cheerful, Jean believed in greeting each day with a smile and positive attitude.
Jean was preceded in death by her parents, younger brother Dexter, husband Bruce, and eldest daughter Ellise. She is survived by her children Craig and his wife Pat of Warrenton, Connie and husband Bruce Story of Kerrville, Kevin and wife Robin of Austin, Carvel and wife Dianne of Texarkana, Lowell of Lake Jackson, and Ellise's husband Mark Griot of Springfield, Missouri; as well as beloved grandchildren and great-grandchildren.
Visitation will be at Lakewood Funeral Chapel on Monday, May 15 from 6 to 8 PM and a memorial service at Lakewood on Tuesday at 10:30. Memorial gifts can be made in her honor to Heifer Project International or Habitat for Humanity.


3 Condolence(s)

Bill Potter & Family
Schertz, TX
Saturday, May 13, 2023
I'm so glad to have Jean and Bruce as good friends.
I remember the fun times we had together. I know that Bruce is happy to be with her again. I'm so sorry for the loss to her family. May God bless you all with comfort and peace.
Bill Potter

I'm so sorry for your loss. I always loved being with your family and Jean had such a happy attitude about everything. I was so happy Jean and Lowell got to visit my mom and dad. I loved always getting a Christmas card from Jean every year.
She will be missed.
Karen Johnson

Nancy J Lee
Bedford, TX
Wednesday, May 10, 2023
You were an inspiration to me and gave me a love for books, that continue to this day. Library was my favorite place to hang out and continued on to high school, where I'd skip home room to eat lunch then run to the library.
Miss you and thank you for being there.
Love,
Nancy Seamster Lee

Andy & Deana Wheeler
Lake Jackson, TX, TX
Wednesday, May 10, 2023
We are so very sorry to hear of Jean's passing but are so blessed to have known her. She was never without a smile for anyone who crossed her path. She always greeted us as if we were the people she was waiting to see. She was a blessing to all who knew her. Our sympathies and prayers go out to the family.