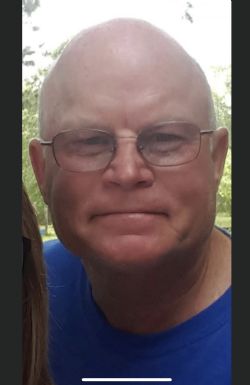 Visitation
Lakewood Funeral Chapel
98 N. Dixie Dr.
Lake Jackson, TX 77566
Friday, May 26, 2023
10:00am-11:00am
Map & Directions


Send Flowers
Funeral Service
Lakewood Funeral Chapel
98 N. Dixie Drive
Lake Jackson, TX 77566
Friday, May 26, 2023
11:00am
Map & Directions


Send Flowers
Ronnie Ray Linscombe

of Freeport, TX
May 19, 2023
---
On Sunday, May 21st, 2023 Ronnie Ray Linscombe was called home at the age of
68. Early that morning, the clouds lifted and the Aurora Borealis ushered him up
to heaven. The world has lost a great husband, father, grandfather, brother, uncle
and friend.
Ronnie was born on August 31, 1954 at the Legion Memorial Hospital in Crowley,
Louisiana. He moved to Texas when he was 10 years old and graduated from
Brazoswood High School in 1973. He joined the Marines and graduated from
Platoon 1010 U.S. Marine Corps in San Diego California in 1975. Ronnie attended
Brazosport College and was a volunteer firefighter/EMS with Clute and Angleton
for many years. He worked in the refineries until he retired from Schenetady. He
had a passion for music, art, poetry, fishing and classic cars and loved the Lord
with all of his soul.
Ronnie was the most kind and gentle man there is. He was a beautiful person
inside and out who cared so deeply for all the people around him. He loved his
grandchildren with his whole heart and they were his pride and joys. Ronnie will
forever be missed. Until we meet again.
Survivors include his wife of 38 years Deborah Linscombe; his son Theron
Linscombe; daughter in law Jennifer Linscombe; grandchildren Kamryn, Ambrielle,
Rhey, Khloe, and Emery; siblings Lester, Art, Brian (Shelly), Deloria; In laws Edgar
and Martha Floyd; sister in law Teresa (Howard) Nolen; brother in laws Michael
Caudle and Bradley (Molly) Caudle, along with so many cousins, nieces, and
nephews that he loved dearly.
He is proceeded in death by his parents, Otha and Edith Linscombe; his brother
Larry Linscombe; nephew Larry Linscombe; sister in laws JoAnn Linscombe and
DeDe Linscombe and his brother in law Homer Utley.
The funeral service for Ronnie Ray Linscombe of Freeport (Demi John), Texas will
be held at 11 am on Friday, May 26 2023 at Lakewood Funeral Chapel in Lake
Jackson,Tx. The family would like to invite friends to join in a visitation from
10am-11am with his service following right after.

6 Condolence(s)

Misty Middleton
Jones Creek, TX
Thursday, May 25, 2023
I only knew Mr. Ronnie for a short time, 7-8 months, while working together. He was a great man, and hard worker. Prayers to his friends and family, and especially his wife and son. RIP, Mr. Ronnie. I'll always remember u!!

Gayle Carrens
Lacassine, LA
Wednesday, May 24, 2023
Rest in peace cuz, you know I love you.

Michael Allen
Portland, OR
Wednesday, May 24, 2023
I'm so sorry for your loss. Never really met Ronnie in person but learned to love him over the years through your FB post. He just seemed like a good old boy and was truly loved. RIP.

Darrell Whitton
Angleton, TX
Wednesday, May 24, 2023
So sorry for your family's loss. Ronnie was a great guy. Enjoyed working with him Back in the day. Praying for peace and comfort during this difficult time.🙏🙏 Sorry I can't make the service we will be out of state. God bless

Betty & Peter Cerbara
Beach City, TX
Wednesday, May 24, 2023
Our deepest sympathy goes out to Debbie, Theron and all the rest of the family and friends. He will be missed so much. Ronnie was always fun for Pete to talk to about cars. I wish we could have spent more time together. We love you.

Linda Platt
Fredricksburg, TX
Wednesday, May 24, 2023
Sorry for your loss Debbie Linscombe. You will always be in our thoughts and prayers.
RIP Ronnie Linscombe You will be missed…