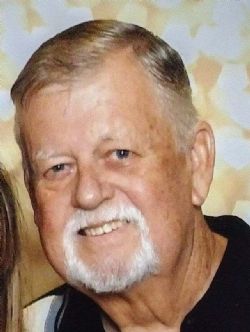 Visitation
Willow Church
200 Willow Dr
Lake Jackson, TX 77566
Tuesday, May 30, 2023
10:00am - 11:00am
Map & Directions


Send Flowers
Funeral Service
Willow Church
200 Willow Dr.
Lake Jackson, TX 77566
Tuesday, May 30, 2023
11:00am
Map & Directions


Send Flowers
Charles Edward Miller, Jr.
of Lake Jackson, TX
June 29, 1947 - May 25, 2023
---
Charles gained his heavenly wings on May 25, 2023 at 75 years of age.
Charles (Chubby) was born to Charles and Agnes Miller on June 29, 1947 in Smithville, Texas. He grew up in Brownsville and Smithville with fond memories of shooting pool (he was a shark) hunting squirrels and rabbits and his #1 love, fishing. And was he ever a fisherman!
He had a natural talent for fishing but also a love for teaching and helping younger men enjoy his favorite pastime. Many a trout and redfish met their demise at the end of his fishing rod. Charles loved his fishing buddies but they all knew that when you fished with him you went to fish. There was no time for lunch or snacks, He always said ''We can eat after we clean the fish.'' 2004 was a stellar year in his fishing career. He won the CCA Guide's Cup Tournament with the 1st place Redfish and the 1st place Team Stringer. Then in the summer of 2004, he won 1st place in the CCA STAR Tournament with the 1st place Middle Coast Trout, weighing in at 10# 5 oz. He was awarded a boat, motor and trailer.
But as much as he loved fishing, he loved his family even more. He was so proud of his sons, Russell and Doug and the life they had made for themselves. He also cherished the extremely close bond with his brother Milan. He met Kimberly in 1986 and in March they celebrated their 30th wedding anniversary on a cruise. Charles and Kim developed a love of cruising and traveled all over the Caribbean for the last 10 years. They were Platinum Cruisers and had over 25 cruises on their resume. They met lifelong friends throughout their travels.
Left to continue his legacy of love are his wife Kim, sons Russell (and wife Carol) and Doug, bother Milan (and wife Cindy). His pride and joys were his grandchildren Tyde and Lorelei Raine. He is also survived by in-laws Sharlotte Botard, Nick & Jacque Dellinger, Phil & Paula Dellinger, Bill & Suzanne Dellinger, Debbie & Charlie McGarity, Dennis & Vicki Clements, along with numerous extended family & friends.
Welcoming him at Heaven's Gates are his Mom and Dad and his daughter Michelle.
Honorary pallbearers are Kerry Wayne Hanson, George Warny, Butch Munnerlyn, Ricky Schuster, Dwayne Davis, Craig Williams, Randall Groves, Russell Davila, Bill Dellinger, Phil Dellinger, Robert Danford and Tyde Miller.
In lieu of flowers, donations may be made to Texas Gulf Coast Rescue Squad.
A viewing/visitation will be held at 10:00 am Tuesday, May 30 with services following at 11:00 am at Willow Church on Willow Drive in Lake Jackson. The family requests that all his fishing buddies wear their favorite fishing shirt and jeans in his honor.
Services are under arrangement of Lake wood Funeral Home in Lake Jackson.



1 Condolence(s)

jeff coursey
LAKE JACKSON, TX
Friday, May 26, 2023
Charlie was a unique person; he had a lot of friends and co-workers over the years. He was a man of extreme integrity, and honesty; a person of good moral character; he will be missed greatly. He was a good father, great husband and overall great family man. I was very fortunate to get to know Charlie over the years. He was a good manager of any project he was assigned to; he was very good in his craft and tech field. Time and distance over the years tend to separate people but no one could ever forget the man and the quality of life he shared with us all. May God Bless Charlie's life and legacy and his family.