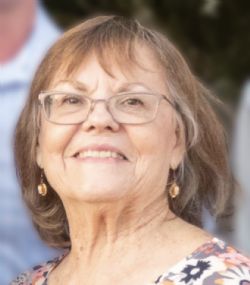 Graveside
Liberty Hill Cemetery
Liberty Hill, TX 77566
Saturday, September 2, 2023
1:00pm


Send Flowers
Katherine Ann Southerland
of Lake Jackson, TX
February 24, 1944 - July 23, 2023
---
Katherine Ann Chance Collins Southerland of Lake Jackson, Texas, died peacefully on July 23, 2023 at age 79 of breast cancer, she was surrounded by family in her home in Lake Jackson, Texas. Katherine was born in Bertram, Texas and lived there her entire childhood. She made lifelong friends attending Bertram High School where she graduated in 1962. Her family attended the Bertram Church of Christ where she met her first love, and late husband, Richard ''Dick'' Lois Collins. The two were wed the day after Katherine graduated high school at the home of L.O. Collins and Minnie Jennings Collins in June of 1962. The couple had two children: Richard Dee Collins and Tami Lee Collins Wisofsky.
Following the death of her first husband in 1984, Katherine entered the workforce to support her family. She met and fell in love with her second husband, Jerry Wayne Southerland, on the job and the two were married in May of 1986. In this union, Katherine gained a stepdaughter: Tiffany Rae Southerland Eller. Katherine and Jerry lived in Lake Jackson, Texas together throughout their marriage, helping care for their grandchildren and attending the Richwood Church of Christ.
Katherine is preceded in death by her parents, Charles Chance and Alma Ratcliff Chance; her brother, Clarence Chance; her sister, Margaret Chance Lentz, and her first husband, Dick Collins.
Katherine is survived by her loving husband, Jerry Southerland; her son, Dee Collins and his wife Stacey Collins of Austin; her daughter, Tami Collins Wisofsky and husband Chris Wisofsky of Ganado; her stepdaughter, Tiffany Southerland Eller and husband Mike Eller of San Antonio; and grandchildren Greta Wisofsky and husband Dillon Fellers, Katrina Wisofsky and husband Mario Hernandez, Anna Eller, Alexa Wisofsky, Hailey Collins, Maecy Eller and Nathan Eller; as well as many cousins, nieces, nephews and friends.
A graveside service will take place at 1:00pm on September 2, 2023 at the Liberty Hill Cemetery in Liberty Hill, Texas. In lieu of flowers, please consider a donation to the American Cancer Society, Richwood Church of Christ, or another charity of your choosing.