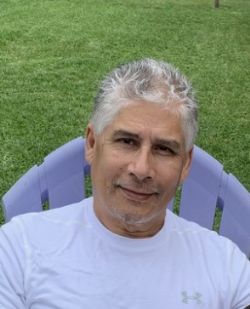 Memorial Service
Bethel Presbyterian Church
West Columbia, TX 77486
Saturday, July 29, 2023
10:00am


Send Flowers
Ernest "Ernie" Aguilar Damian
of West Columbia, TX
March 7, 1958 - July 21, 2023
---
Ernest (Ernie) Damian passed away peacefully with his family by his side on July 21, 2023. Ernie was born on March 7, 1958 in Freeport, Texas to Ignacio and Lillie Damian. Because of his deep personal relationship with Jesus, Ernie was greatly blessed with his wife of 40 years, 3 beautiful daughters, their godly husbands and 5 wonderful grandchildren. Among Ernie's biggest accomplishments were his tenure at Dow Chemical (20+ years) and Safety Manager at Doyle & Wachtstetter for almost 20 years, where he retired.

Ernie is survived by: his wife Donna, daughters: Sara Hunt (Jeff), Lily Doyle (Kim), Lara Cather (Blake), grandchildren: Tyler, Carter, and Masen (Hunt) and Eloise and Magnolia (Doyle). Surviving siblings: Ignacio Jr. Damian (Anita), Josie Lucas (Steve), Brenda Damian, Ricky Damian (Stacy) and numerous nieces and nephews.

A memorial service will be held at Bethel Presbyterian Church in West Columbia, Texas on July 29, 2023 at 10 o'clock in the morning.

In lieu of flowers, please make memorial donations to: The Living Room, 326 East Brazos, West Columbia, TX 77486 or Christian Senior Citizen Center, 629 E. Bernard St. West Columbia, TX 77486.

Arrangements by Lakewood Funeral Home, Lake Jackson, Texas.

2 Condolence(s)

Cupadyne Burdick
Paris, TX
Wednesday, July 26, 2023
R.I.P my friend, not Good-bye but see ya on the other side.

Marlena Ruelas
Richwood, TX
Tuesday, July 25, 2023
Uncle Ernie may you rest peacefully, thank you for being a good uncle and a great brother to my dad. You lived your life exactly as Psalm 73:26 states.