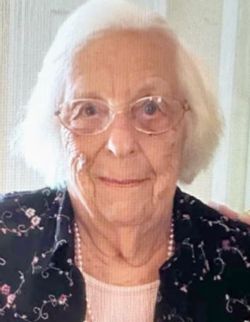 Visitation
Lakewood Funeral Chapel
98 N. Dixie Dr.
Lake Jackson, TX 77566
Saturday, July 29, 2023
11:30am - 2:00pm
Map & Directions


Send Flowers
Funeral Service
Lakewood Funeral Chapel
98 N. Dixie Drive
Lake Jackson, TX 77566
Saturday, July 29, 2023
2:00pm
Map & Directions


Send Flowers
Dorothy Mae West
of Richwood, TX
January 8, 1925 - July 23, 2023
---
Dorothy M. West passed away on July 23, 2023, surrounded by her loved ones. She was born to Bessie and George McFarlane on January 8, 1925, in Lovelady, Texas. Dorothy retired from Nalco Chemical and was active in various churches throughout her life. She enjoyed reading, mowing, spending time with her family and listening to music. At 92, she attended a Fog Hat concert and rocked the front row with the hard core fans. She wasn't your average grandmother. She danced at all of her great grandchildren's weddings and joked about teaching the Texas Two Step in heaven.
She is survived by her daughter, Sandra Potts of Freeport, Texas; grandchildren, Jay Potts (Rhonda) of Richwood, Texas, Terri O'Kelley (George) of Bryan, Texas, and John Potts (LaVonda) of Richwood, Texas; great-grandchildren, Mitchell Potts, Sonnie Potts, Samantha Potts, Kayla Canard (Toby), Garrett O'Kelley, Hanna Potts and Keegan O'Kelley (Mariah); great-great-grandchildren, Hunter Laymen, Mason Whatley and Warren Potts; and her beloved Prichard family.
She was preceded in death by her parents, her husband John August West, her daughter Deborah Haynes Prichard and her grandson William Brian Potts.
The visitation will be July 29, 2023, 11:30 a.m. to 2:00 p.m. and followed immediately by the funeral service at Lakewood Funeral Chapel in Lake Jackson, Texas.



2 Condolence(s)

Susan Hargrove
Columbus, TX
Monday, July 31, 2023
My condolences to you all. I rented my first home from Dorothy and August not knowing at the time that they were friends of my grandfather Buddy Darwood. My mom Sallie Van Way and Dorothy were close friends later in life. Sallie told me that Dorothy mentioned she had already put in a request for supervisor position for when she arrived in Heaven so everyone will be well looked after.

Lee Terry
Brazoria, TX
Tuesday, July 25, 2023
My deepest condolences to the family.Dorothy was a great lady and loved by all.
Rest in peace sweet friend and may perpetual light shine upon her.