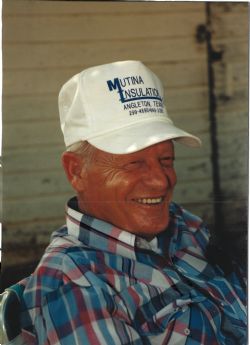 Memorial Service
Northway Baptist Church
1421 Buchta Rd
Angleton, TX 77515
Thursday, August 3, 2023
10:00am
Map & Directions


Send Flowers
Karrol Wayne Andrews

of Angleton, TX
January 28, 1939 - July 30, 2023
---
Karrol Wayne Andrews, known to his loved ones as Wayne, passed away peacefully on July 30, 2023, at the age of 84 in Angleton, Texas. He was born on January 28, 1939, in Rush Springs, Oklahoma, to his late parents, Myrtle E. Van Cleave and Asa A. Andrews. Wayne is preceded in death by his beloved wife of 48 years, Carole Andrews, his daughter Susan Andrews, his son James Knight, his mother, father, brothers Oral Andrews, Clarence Andrews, Jay Andrews, and sisters Marie Mesick and Laura Thacker.

Wayne is survived by his son, Kenneth Knight and wife Janie from Jackson, Tennessee, and his daughter, Tammy Mutina and husband Bob from Angleton, Texas. He will be dearly missed by his family and friends.

Wayne proudly served in the Navy as an Airman from July 25, 1956, to December 7, 1959. His dedication and commitment to his military service were commendable.

As a boy, he started a paper route in Phoenix, Arizona, in 1952, and following his military service, Wayne embarked on a successful career settling in Corpus Christi, Texas. Throughout his life, Wayne held various jobs, including working at Hutson Oil, as a home delivery milkman, and at Butter Crust Bread Co. Eventually, he moved to Angleton, Texas, where he worked for US Contractors before retiring from the Texas Department of Corrections in 2003.

Wayne found solace and community in his faith. He was a long-time member of Northway Baptist Church, where he worshipped and found support.

In his free time, Wayne had a wide range of hobbies that brought him joy. He enjoyed hunting, fishing, playing the guitar, riding horses, and playing dominos. His zest for life and infectious laugh brightened the lives of those around him.

A memorial service to honor Wayne's life will be held at 10:00 on Thursday, August 3, 2023, at Northway Baptist Church, located at 1421 Buchta Rd, Angleton, TX 77515. The service will be a time for family and friends to come together and celebrate the cherished memories they have of Wayne.

Wayne's presence will be deeply missed, but his memory will forever live on in the hearts of those who knew and loved him.

4 Condolence(s)

Sheila Brown
Clinton, AR
Monday, August 21, 2023
I am so sorry to hear of Wayne's passing. He and Carol were friends of mine for almost 50 years. Hugs, love and prayers to the family.

Dennis & Judy Vosburg
Angleton,
Thursday, August 3, 2023
Brother Wayne will be missed not forgotten.
Hey Wayne play Empty Mansions when you get there in heaven for me.
Love ya Bro. Dennis
.

Carolyn Harp
Hughson, CA
Tuesday, August 1, 2023
Wayne was a loving uncle to me. I will miss his sweet phone calls after earthquakes in CA, wildfires and storms in CA, and the like. He would see them on the news and then call to see we were in danger on our ranch. He visited us here on the ranch and I can still see his smile and hear his laughter as we sat under a shade tree reminiscing of days of our childhood. He was dearly loved and he dearly loved all his family. No more pain and suffering for you now Uncle Wayne. We love you. Love to you Tammy for taking such good care of him all these years. He spoke very fondly of you dear and you deserve a crown.

Kelley Andrews
Coos Bay, OR
Tuesday, August 1, 2023
I met Uncle Wayne once, or so he reminded me when we had a great conversation a while back. I was 2 years old in Safford, AZ when he traveled there to see my Dad, his brother Jay. Sad to hear of his passing. He was the last of that generation on the family.