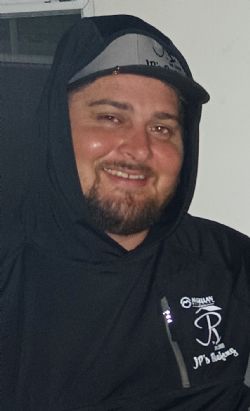 Visitation
Lakewood Funeral Chapel
98 N. Dixie Dr.
Lake Jackson, TX 77566
Saturday, August 12, 2023
3:00pm - 6:00pm
Map & Directions


Send Flowers
Jarred Maylon Pitt
of Brazoria, TX
October 22, 1987 - August 2, 2023
---
Jarred Maylon Pitt, Known to his loved one's & friends, aka "JP" passed away at his home unexpectedly, on Wednesday August 2nd. 2023 at the age of 35 in Wild Peach, Texas.

He was born October 22nd, 1987 in Schenectady, New York to Alton Pitt Jr. & Glenda Ham. He was a beloved Husband, Father, Brother, Son, Nephew & Uncle. He grew up in Jones Creek, Texas ... with his Mother and Siblings. He later met his wife, Courtney Pitt in 2009 and they started their Family. We are Truly grateful to have had the last 15 years we shared together. He touched many lives and left his mark on people, wherever her went .. He will never be forgotten. He was a hard worker for his family, he spent a lot of time Roofing which he adored as well as his Company he built, " JP's Roofing" with the help of his Roofing Crew, who he loved like Family. I can Honestly say, He was Living his Dream & we will keep his dream alive.

Preceded in Death, by his Father Alton Pitt Jr. And his beloved Aunt Barb Pitt.

Jarred is survived by his Wife Courtney Pitt And Son's Haydyn & Vrody Pitt. His Mother Glenda Ham & Sister's, Shannon Hunt, Christy LaValle, Callie Clepper, Cassie Clepper & Caelyn Clepper & Brother Christian Clepper. Numerouse Neices, Nephew's, Cousins and Friends and All his Family in New York State, "They meant the world to him"

The Celebration of Jarred's Life will be held on Saturday, August 12th. 2023 at Lakewood Funeral Home in Lake Jackson, Texas between 3pm to 6pm. Come casual and Come as you please. He will be truly Missed, but Never Forgotten.

9 Condolence(s)

Luanne ☀ Salinas
Freeport, TX
Saturday, August 19, 2023
To Jared's Family, I just learned of his passing today. I would have gone to his celebration of life. Jared knew me as Mrs. Hughes. I was his substitute teacher at Stephen F Austin elementary. He was always respectful, but in his younger years, he had a little mischievousness. I was so happy to read his obituary, and know that he has done a good thing for his self and his family. I know he will never be forgotten I always thought he was such a handsome kid and as I see his picture, he still has that same look. I pray for the peace that passes all understanding of him. I pray that Jared's sons will carry that same sweet and strong spirit. Blessings to you all.

Luanne Salinas aka Mrs Hughes

Nallely Rivas
Freeport, TX
Saturday, August 12, 2023
Rest in heaven JP you're loud contagious laugh will never be forgotten. Thank you for always being such a gentleman and a good friend. Thank you for throwing the best parties in intermediate school and bringing so many people together. Rest easy old friend.

Sandy & Jack Broadway
Missouri city, TX
Saturday, August 12, 2023
We are so very sorry for your loss. JP was a very special young man. You can tell a lot about a man by the way he treats his children. jP loved his boys so much and that clearly showed through. He was generous with his time and his help, always available to help when needed. He always had a big smile on his face. I know that you all are missing him terribly. Jack and I send our thoughts and prayers as you grieve.

Jack & Sandy

Jared Wayne Honeycutt
Jones creek, TX
Thursday, August 10, 2023
I will miss you buddy , we had a lot of memories and good times together as friends and working buddies may the lord Yahuveh give you rest

Debra and JoeBush
Midland, TX
Thursday, August 10, 2023
Thank JP for being there and helping raising Haydyn Wayne Bush you will truly be missed by the Bush Family.

Harvey and Cynthia Clepper
Freeport, TX
Thursday, August 10, 2023
Jarred was a great son. He always got alone with everyone. I started
taking him with me doing roofing jobs when he was only 4 years old. He
told me when he was about 6 years old that he wanted to be a roofer
when he grew up. When Jarred started his roofing business he made a
friend on every job. His customers loved him. I was so proud to hear
all the compliments that he generated. As his family grew, he became a
great husband and father. Jarred was always happy to help any time we
called on him. He would show up with his sons and it made us so happy
to see him teaching his boys the value of work. Jarred's true gift was
to make everyone feel special and loved. He had a big heart and
Cynthia and I felt very honored and proud to have had him in our
lives. "We who are still alive will be caught up together with them in
the clouds to meet the Lord in the air" and so shall we be forever
with the Lord.(1 Thessalonians 4:17).

Gary & Lisa Lancaster
Fair Play, MO
Thursday, August 10, 2023
Sending love and prayers in your time of loss

Felicia Eddowes
Granby, MO
Thursday, August 10, 2023
I love Jp like a brother and I will miss my brother he was a great brother to me and will always remember him how he helped me win I need him rest in piece

Sandra and Steve Mc Laughlin
Avon by the Sea, NJ
Wednesday, August 9, 2023
Jarred visited with us a number of times - when he was a young boy and later as a young man. When he came to visit he always wanted to go into NYC and see a Broadway musical. We went to 'The Lion King', 'Beauty and the Beast' and 'The Phantom of the Opera'. He was always in awe of the spectacle of a show and would sometimes gasp out loud when something unexpected took him by surprise. There was a sensitive side to Jarred that he didn't reveal to everyone. He was very philosophical about his goals for his future and and he enjoyed talking about all his plans, especially with Steve. He wanted a family and to own a business and have a home. But he was practical and knew there were steps he had to take to reach those goals. We were very proud of him when he graduated from high school and he was so proud to tell us.
And, of course, there was his hair! It was always perfectly coifed and he was justifiably vane about it. When we would tease him, he would sit and grin and let us. He knew how great he looked.
We lost touch with him over the years, but it didn't diminish his impact and the love we had for him. He was a lovely human and he will be missed.
With sympathy and love for his family and friends,
Sandra and Steve Mc Laughlin